Comfort Dental Welcoming Patients In Lakewood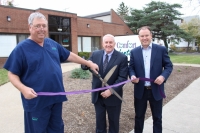 Dr. Kevin Marshall has opened the new Comfort Dental office in Lakewood. America's largest dental franchise company, Comfort Dental's mission is to expand access to care by making it affordable and convenient.

Conveniently located at 17500 Madison Avenue, Dr. Marshall is now accepting new patients and can be reached at 216-302-2401. Walk-ins are welcomed.

"Comfort Dental has been a pioneer in supporting local, dentist-owned offices that provide affordable care to all types of patients," said Dr. Marshall. "Like most dentists, we treat patients with private insurance. Unlike most dentists, we treat Medicaid and uninsured patients as well."

New patients are just $19 including exam and x-rays (payment due at time of service). Generally, Comfort Dental's fees are 25% - 30% less when compared with other dentists.

"Even if you have no insurance, we offer our own Gold Plan," Dr. Marshall added. "Gold Plan patients pay 40% - 50% less than they would with other dentists."

Comfort Dental offers extended regular office hours including Monday-Friday, 7:30 a.m. to 7:30 p.m., Saturdays, 7:30 a.m. to 1:30 p.m., and 24-hour emergency access.

"Offering during hours that fit into the lives of working families is important to us," Marshall said. "That's why we are open into the evening and on Saturdays."

Marshall and his wife recently moved to the area after practicing in Colorado for many years.

"The lack of access for many patients to dental care made coming here a no-brainer," said Marshall. "Comfort Dental's dentists are fast becoming one of the biggest Medicaid and uninsured providers in Ohio. We are happy to be in Lakewood and looking forward to growing the practice."

To schedule your appointment with Dr. Marshall, call 216-302-2401. To learn more about Comfort Dental, visit ComfortDental.com.
Kevin Coughlin
Kevin Coughlin is a consultant to Comfort Dental.
Read More on Business News
Volume 14, Issue 2, Posted 9:51 PM, 01.23.2018