Beck Center Presents Solo Exhibition With Shelly Svonavec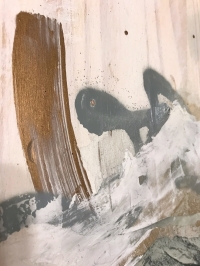 Beck Center for the Arts is pleased to present the solo exhibition Soulstice: Intuitive works by Shelly Svonavec on display in the Jean Bulicek Galleria January 13 –March 11, 2018. An Artists' Reception will take place Saturday, January 13 from 5:30 – 7:30 p.m. Cash bar and light refreshments available. The exhibition and reception are free and open to the public.
Cleveland-based artist and educator Shelly Svonavec uses intuition and gesture in an abstraction of the natural and ethereal, ultimately creating surreal and moody landscapes, rich with organic texture and emotional depth. "Shelly Svonavec's moving and beautiful pieces have energized our gallery walls, and we're very excited to have the opportunity to showcase these works for her first solo art exhibition," remarked McKenzie Merriman, Beck Center Galley Coordinator.
"To understand, to empathize, to fix. I unearth aspects of emotion and atmosphere through my art that otherwise is impossible to explain. Through an intuitive process I am able to experiment on every piece, losing myself in the problem solving along the way."–Shelly Svonavec.
For more information about upcoming exhibitions at Beck Center, visit beckcenter.org. For gallery hours, call Customer Service at 216.521.2540 x10. Beck Center is located at 17801 Detroit Avenue in Lakewood. Free onsite parking is available.
Beth Kretschmar
Director of Marketing, Beck Center for the Arts
Read More on Arts
Volume 14, Issue 2, Posted 9:51 PM, 01.23.2018