Ranger Girls Get Gutsy Win over North Ridgeville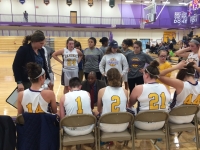 The LHS girls basketball team earned a gutsy win on Saturday afternoon at Lakewood Gym, defeating North Ridgeville 51-48 in overtime. The Rangers played without starters Isabel Cintron and Christian Massey, both of whom were injured in an on-court collision in the previous game. Senior Olivia Nagy had 30 points to lead the Rangers, and seniors Mary Lavelle and Courtney Ribar each scored seven. Lavelle started in place of Massey, and Ribar switched to point guard in the absence of Cintron.
The game was close throughout. The tone was set early, as North Ridgeville held a 14-12 lead after the first quarter. North Ridgeville relied on outside shooting, including a pair of three pointers. The Rangers dominated the inside game, with Nagy and Lavelle scoring all 12 of Lakewood's points. North Ridgeville had two more three pointers in the second quarter, but Lakewood held a 26-24 halftime lead. Senior Courtney Ribar hit a key three pointer late in the half, complementing Nagy's nine second quarter points.
The scoring pace slowed early in the second half, and Lakewood led 34-31 after three quarters. Lavelle made a pair of key free throws to help the Rangers sustain the lead. North Ridgeville battled back early in the fourth quarter, and built 42-37 lead with less than four minutes remaining in regulation. North Ridgeville's fans exploded when they took the five point lead, as Lakewood appeared frazzled and headed toward defeat. The Rangers locked down their defense for the final three minutes, only allowing one more North Ridgeville point to be scored. Lakewood turned to Nagy on the offensive end, and she scored the Rangers' final six points of regulation. She made a pair of clutch free throws with 12.5 seconds left in regulation, tying the game at 43-43 and delighting the Lakewood crowd.
Sophomore Ava Clause, who had been held scoreless in regulation, stepped up to be the key player in overtime. She scored a put-back basket with two minutes remaining that gave Lakewood a 45-44 lead. With 32.2 seconds remaining in OT, she made a three point shot that gave Lakewood a 49-47 advantage. Ribar later made a pair of clutch free throws that gave Lakewood a three point lead with under 30 seconds remaining. Lakewood's defense stopped North Ridgeville's final possession, and the Rangers earned the 51-48 victory.
The win stretches Lakewood's winning streak to six games, and raised their overall record to 10-6. They return to action Wednesday, January 24th with a home game against Amherst. Junior Varsity is scheduled for 6pm, varsity at 7:15pm.
Mike Deneen
Mike Deneen has extensive experience covering sports and community stories for the Lakewood Observer. Mike has been a Senior Industry Analyst for the Freedonia Group in Cleveland, Ohio, since 1998. He has appeared on CNBC's Closing Bell, NPR's MarketPlace and has been quoted multiple times in The Wall Street Journal. He has made multiple guest appearances on ESPN Cleveland radio. Mike also writes for Inside Northwestern, a website that covers Northwestern Wildcat Athletics. You can reach him on Twitter at @MikeDeneen1
Read More on Sports
Volume 14, Issue 3, Posted 10:29 AM, 01.21.2018