Free Internet Safety Parent Seminar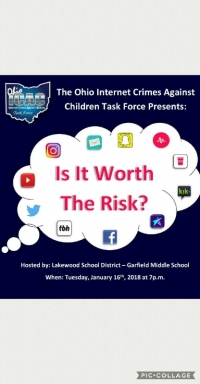 On Tuesday, January 16, 2018 at 7pm, Lakewood School District will hold a free presentation titled "Is It Worth the Risk?" to provide information necessary to keep children safe on the internet. The information will be presented by Lexi Giering, the Statewide Outreach Coordinator for the Cuyahoga County Prosecutor's Office and member of the Ohio Internet Crimes Against Children Task Force.
Ms. Giering's presentation will focus on the dangers of popular internet sites and mobile apps. Specifically with regard to problem areas and potential red flags of today's connected world. Cyberbullying and sexting and the consequences associated with these dangerous trends will also be discussed. The task force will provide attendees with the tools and knowledge to protect themselves and their children. Time will be allotted for questions and discussions.
This free event is highly recommended for all parents and guardians of today's internet connected youth. A student presentation was provided to Lakewood Middle School students this past fall. The messages were so powerful, the district staff added this parent presentation.
The event will be held Tuesday, January 16th at the Garfield Middle School Cafeteria at 7pm. Garfield Middle School is located at 13114 Detroit Rd., Lakewood Ohio 44107. For more information you can email lakewoodcouncil@gmail.com or view event details at https://www.facebook.com/events/1645092612217752/?ti=cl
Amy Smith has been a Lakewood resident since 1997.
Amy Smith
Lakewood Resident since 1997.
Read More on Schools
Volume 14, Issue 1, Posted 9:54 AM, 01.16.2018