This Land Is Your Land: Family Story Time About Diversity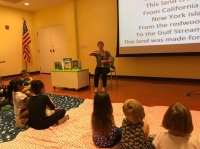 In October of 2017, Lakewood Public Library launched an exciting new story time series, "This Land is Your Land: Family Story Times about Diversity." The October and November sessions were a huge success, with over 80 people in attendance. Children as young as 6 months and as old as 10 years joined in the fun, diving into two important topics in social justice today- LGBTQ+ and Disability Rights.
You might wonder, how can themes as seemingly big as these be accessible to young children in a story time? According to an article by Penn State University Extension, children as young as two begin to notice racial and gender differences. At three, they are able to notice differences in physical abilities. Somewhere between four and five, children begin to develop gendered behavior, become fearful of differences, and begin to form biases. Studies have shown that when children are exposed to positive images of diversity at an early age, children have less prejudice and internalized bias than those raised in an atmosphere of "colorblindness."
January's session will be tackling a topic very prevalent in the news today; immigration. Since immigration can be an issue difficult to explain to young children, the story time will introduce the topic with three beautiful and age-appropriate books, as well as bilingual songs, matching activities, and a postcard writing craft.
This story time is open to families with children of all ages. The next session will be Sunday, January 28th, 2018 at 3:30 p.m. in the Main Library Multipurpose Room.
Register online at lakewoodpubliclibrary.org/youth or call (216)226-8275 ext. 140.
Read More on Library
Volume 14, Issue 1, Posted 4:06 PM, 01.09.2018