Pulitzer Prize Winner "Evicted" To Be Discussed At Lakewood Public Library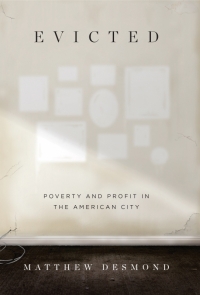 The statistics are grim. The majority of poor renting families spend at least half their income on housing, and almost a quarter dedicate over 70 percent. Any financial emergency or job loss can throw lives into a downward spiral, resulting in eviction.
In the Pulitzer Prize winner "Evicted: Poverty and Profit in the American City," Matthew Desmond chose Milwaukee, Wisconsin to examine the causes and devastating effects of eviction for families and communities. He immersed himself in the lives of several poor, renting families in order to research the problem of chronic housing shortages and unaffordable rents. He also followed two landlords as they navigated the business of housing low income renters.
"Evicted" will be the subject of two book discussions at Lakewood Public Library in early 2018. Led by Dr. Roland V. Anglin, the Dean of Cleveland State University's Maxine Goodman Levin College of Urban Affairs, the discussions are part of One Community Reads, a collaboration among the City Club of Cleveland, Playhouse Square and nine local public library systems. You can join Dr. Anglin in the Main Library Multipurpose Room on January 15 at 7:00 p.m. or February 1 at 7:00 p.m. in the Madison Branch Auditorium.
"Evicted" chronicles the lives of several low-income families, centering on inner-city Milwaukee and a trailer park on the outskirts. Desmond uses intimate storytelling to tell the larger story of loss of housing in Milwaukee, a city which mirrors the conditions of many cities in the industrial heartland, such as Cleveland and Indianapolis. Why do poor families spend such a large percentage of income on rent? In the last two decades, while housing and utility costs have soared, incomes of the poor have fallen or flat-lined and federal assistance has not bridged the gap. When people can't afford housing and are evicted, it destabilizes families, schools and communities. Desmond's research has shown that eviction is not just a condition of poverty, but a cause of it.
One Community Reads is dedicated to creating a stronger community through books. Join the discussion at Lakewood Public Library on January 15 or February 1 with Dr. Roland Anglin to examine the effects of eviction and discuss solutions to the housing crisis.
Read More on Library
Volume 14, Issue 1, Posted 4:06 PM, 01.09.2018