Meet The Author: "The Last Voyageurs"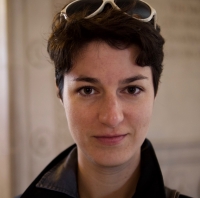 Join sixteen teenaged students on an inspiring odyssey along one of America's most famous rivers. On Thursday, January 18, 2018 at 7:00 p.m., Lorraine Boissoneault is coming to the Lakewood Public Library's Main Auditorium to discuss her book, "The Last Voyageurs: Retracing La Salle's Journey Across America: Sixteen Teenagers on the Adventure of a Lifetime."
In 1682, the French explorer Robert De La Salle canoed down the Mississippi River. In 1976, a group of teenagers and their teachers decided to celebrate America's bicentennial anniversary by recreating La Salle's journey along the Mississippi. The expedition was originally organized by Reid Lewis, a French teacher in Illinois. The group raised money and gathered clothing, food, canoes and other equipment authentic to the 1600s and began their journey, a 3,300 mile trek that lasted eight months. They faced difficulties and danger along the way, but triumphantly completed the life-changing journey.
"The Last Voyageurs" is journalist and writer Lorraine Boissoneault's first book. She is a graduate of the Columbia School of Journalism. Though currently living in Chicago, Boissoneault is originally from northern Ohio. She is a staff history writer for Smithsonian Magazine. Her work has also been featured in The Atlantic, Mentalfloss, Salon, Forbes, and numerous other publications.
In her book, Boissoneault traces the journey the group of young men embarked on in order to experience and understand La Salle's travels. She describes Reid Lewis's continuous efforts to make it a success, leading Kirkus Reviews to call the book "an engaging travelogue that provides a good example of how one person tirelessly pursued his dream to fruition." This book has been well received and was a finalist for the Chicago Writers Association Nonfiction Book Award. There will be copies available for sale and signing at the Meet the Author event, which is free and open to the public.
Read More on Library
Volume 14, Issue 1, Posted 4:06 PM, 01.09.2018