Here We Are Again: Reviews Of Recent Releases By Local Bands Pt. 62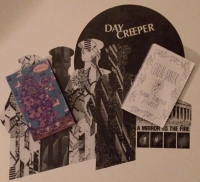 Obligatory Disclaimer: Record reviews are a tricky business. It's one thing to enjoy music, but to, like, pick out what you like about it? That being said, if I review your thing and I didn't like something, don't feel too bad. My opinion doesn't matter all that much.
Cereal Banter - Seasonal Poinsettia Disorder - self-released - 4 songs - cassette, download
Cereal Banter return with a holiday release. Interesting. "Dysphorbia" starts the journey off with a sort of hypnotic and melancholy experimental…indie rock song? The vibe of the song is almost an indie rock kind of thing but it's so minimal that it can't quite be called that. Experimental pop, perhaps? I kinda like it. While I thought I was taking notes on "Rump Pun," I was actually listening to the following track, "White Elephant In The Room" (good title). I guess "Rump Pun" was the little interlude part. Anyway, "White Elephant In The Room." I guess the best way to describe this (and the whole cassette, really) would be "avant-garde Christmas music." I think that's what they were going for, and they've done it. The semi-sappy melodies and (as annoying as this word is to use) "vibe" of some forgotten holiday tune but more sparse and kinda ambient. Speaking of ambient, Side B here is a 15 or so minute long cover of John Lennon's classic "Happy Christmas (War Is Over)," done here as an instrumental and retitled "Sappy Wishlist (Florist Goer)." The press release I got sent for this said something about it being "spaceship ambient" or something along those lines. I really can't do better than that in describing it. I like how they kept in some studio chatter as well. I won't be pulling this out over, say, the Fossil Fuel Christmas LP, but it's an interesting concept and Cereal Banter did a decent job with it. 3.7/5
(cerealbanter.com)
Day Creeper - A Mirror To The Fire - Heel Turn Records / Superdreamer Records - 10 songs - LP
Day Creeper's third full-length? I think that's right. I never heard "Hell Is Real" and I thought "Central States" was okay, and I anticipated finding this similarly decent. It is decent, but it's actually better than decent. In fact, I would go so far as to say that I like this record. It kicks off with "Energy (I Can't Stand The)," which has a special place in my heart as it's the first Day Creeper song I ever heard (on the Quality Time compilation). I thought it was a good song then and I think it's a good song now. Different recording, but still a darn good, very catchy garage rock song. "Desperate Limb" follows it up with another good garage-punker. That ominous little guitar riff makes me think of "I Remember California." And the opening trifecta is completed with "Manchild Blues," a peppy indie-garage tune. The backing vocals really do it for me on this one. "Little Lover" is okay too, especially because it's got Mark Wyatt (Great Plains) on it to add some keys. The first side closes with "Allergic To Myself," which almost (not quite, but almost) gets into Thomas Jefferson Slave Apartments territory (I mean, without the genius of Ron House, and Day Creeper can't do with two guitarists what Bob Petric can do all by himself, but the feeling is there). A banger, as the kids say. Nice slow part in there as well in case you get too worked up. "Victim Of ___" (I'm not censoring anything here, that's what it's called) is a solid garage 'n' roller, catchy enough. "Suffer" actually reminds me a lot of Shitbox Jimmy (if you'd like a more local comparison). I mean, Aaron Troyer is no Joey Nix, but it's still reminiscent. While I'm on that track, and since I'm contractually obligated to say this in every Day Creeper review, Aaron Troyer's voice reminds me a lot of Doug Enkler. You could maybe even compare certain DC songs to certain Prisonshake songs if you wanted to do so. "Secrets," much like "Little Lover" on the previous side, kinda slows down the momentum a little bit, but isn't a bad song in and of itself. "Unfulfilled" might be the best Day Creeper "ballad" yet. Again, special guest Mark Wyatt's keyboard adds some flavor as well. This one almost reminds me of the Replacements in a way. Closing out the LP is "Room To Breathe," which (at the start at least) is again giving me a "Green"-era R.E.M. feel. It's got a nice dual guitar part for a second and his voice sounds a bit blown out, perhaps adding to the "desperate" tone. I guess the quickest way to sum up the Day Creeper sound is to toss in some comparisons to the poppy side of garage/punk: stuff like Cheap Time, Jacuzzi Boys, etc. Do with that what you will. Anyway, this is a solid LP. Probably the best Day Creeper LP yet, actually. 4/5
(heelturnrecords.com)
Are you a local-ish band? Do you have a record out? Email vaguelythreatening@gmail.com or send it directly to Observer headquarters: The Lakewood Observer, c/o Buzz Kompier, 14900 Detroit Avenue, Suite 205, Lakewood, OH 44107.
Read More on Arts
Volume 14, Issue 1, Posted 4:06 PM, 01.09.2018