Violin Music Through The Ages Comes To The Library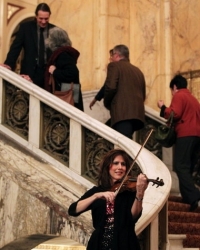 Come to the Lakewood Public Library to experience Mary Beth Ions, a funny, outgoing, talented violinist whose repertoire ranges from Bach to the Beatles.
Ions will be bringing her violin to the Lakewood Public Library's Main Auditorium on Sunday, January 14, 2018 at 2 p.m. This performance is part of the library's Sunday With the Friends program series.
Mary Beth, a freelance, classically trained Cleveland violinist, graduated from Baldwin-Wallace College and Penn State University. She performs at a variety of venues, including senior centers, the Cleveland Clinic, weddings, showers, funerals, and the lobby of the Palace Theatre. In addition to her freelance endeavors, Ions plays for the Cleveland Pops Orchestra and used to play in the orchestras for the Cleveland Ballet and the Cleveland Opera. She has also been in the orchestra pit for the Broadway Series at Playhouse Square.
Although Ions plays a variety of tunes, from Broadway to classic rock to current hits, she has also kept a connection with her classical roots. In addition to regularly playing classical music in her one-woman concerts, she is involved in the BrownBag Concerts with downtown Cleveland's Trinity Episcopal Cathedral Chamber Orchestra.
According to an article in the Cleveland Plain Dealer, some of Ions's most admirable work is done in senior centers and at the Cleveland Clinic, where her "exuberant and often-antic behavior" steals the show as much as her skillful playing. She often tells jokes and talks throughout her performances about everything from her boyfriend to the history and nature of the violin. Her cheerful, relatable manner brings joy to the residents and patients she performs for. She is sure to bring the same joy and fun to the library in her upcoming performance.
Read More on Library
Volume 13, Issue 24, Posted 3:19 PM, 12.19.2017