Matthew Markling And McGown & Markling Among Best Education Lawyers And Law Firms For 2018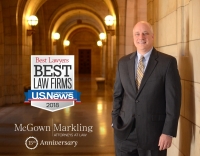 U.S. News & World Report and Best Lawyers has announced both its selections for "The Best Lawyers in America®" and rankings for "Best Law Firms."
McGown & Markling is proud to announce that Matthew Markling has once again been selected one of The Best Lawyers in America® in the practice area of Education Law for the year 2018. This is especially gratifying as recipients are selected by one's legal peers. Mr. Markling is the managing director and co-founder of McGown & Markling, as well as a Former Lakewood City School Board President and proud Lakewood husband, father, and resident.
McGown & Markling is also very proud to remain among the select few law firms to receive a Tier 1 Ranking by U.S. News – Best Lawyers® "Best Law Firms" in "Education Law" for every year since the ranking began – including 2018.
Firms included in the 2018 "Best Law Firms" list are recognized for professional excellence with persistently impressive ratings from clients and peers. Achieving a tiered ranking signals a unique combination of quality law practice and breadth of legal knowledge and experience.
"U.S. News is the global authority in rankings," says Tim Smart, executive editor of U.S. News & World Report. "Evaluating law firms is a natural extension of what we do best."
The 2018 rankings are based on the highest number of participating firms and highest number of client ballots on record. Over 13,000 attorneys provided more than 1,000,000 law firm assessments, and over 7,500 clients provided more than 65,000 evaluations.
"We have been ranking law firms for eight years," says Steven Naifeh, CEO and co-founder of Best Lawyers, "having ranked individual lawyers for almost 35. This year we reviewed 13,745 law firms across the United States – across 75 practice areas – and a total of 1,911 firms received a national law firm ranking. We continue to expand our reach even as we also work to simplify the process for the law firms that provide us with the information that we use to create the rankings. We are proud that the legal profession views our law firm rankings with such serious and widespread respect."
"The law firm of McGown & Markling is honored to be recognized by our clients and peers for our education law practice," says Matthew Markling, managing director and co-founder of McGown & Markling. "We look forward to continuing to represent Ohio educational leaders and work collaboratively with our peers throughout 2018 and beyond."
To learn more about the law firm of McGown & Markling, as well as Mr. Markling, please visit www.mcgownmarkling.com.
Read More on Schools
Volume 13, Issue 23, Posted 3:19 PM, 12.19.2017