Lakewood Resident Wins Toastmasters District 10 Humorous Speech Contest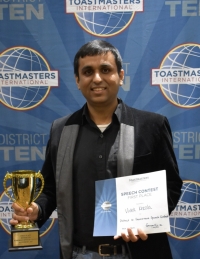 Vivek Khosla, Principal Consultant at KBACE, A Cognizant Company, won first place in the Toastmasters District 10 Humorous Speech Contest. The event was held on Saturday, November 4, 2017, at the Crowne Plaza in Independence, Ohio.
Khosla, a member of Rocky River Toastmasters, joined the club in April 2016. "Toastmasters provides an inspiring and supportive atmosphere which has helped me reach my goals," says Khosla.
This year he had a stretch goal of entering the Humorous Speech Contest. He won the Area and Division contests, giving him the opportunity to compete and take first place at the District level.
"Delivering a speech in a contest is one of the best experiences I've had since I can apply all the tools and techniques I've learned at the club level. The audience feedback is a great confidence booster," says Khosla.
"Vivek inspires us. We are privileged to have him as a member of our club," says Mark Meisner, V.P. Education for Rocky River Toastmasters.
Rocky River Toastmasters was established in 1957 and is a part of District 10 Toastmasters which covers Northeast Ohio. The club meets the 1st and 3rd Mondays at the Rocky River Library from 7 to 8:30 p.m. Guests are always welcome. For more information about the club, please visit their website at http://rockyrivertm.toastmastersclubs.org/.
About Toastmasters International
Toastmasters International is a worldwide nonprofit educational organization that empowers individuals to become more effective communicators and leaders. Headquartered in Rancho Santa Margarita, CA, the organization's membership exceeds 352,000 in more than 16,400 clubs in 141 countries. Since 1924, Toastmasters International has helped people from diverse backgrounds become more confident speakers, communicators and leaders. For information about local Toastmasters clubs, please visit www.toastmasters.org. Follow @Toastmasters on Twitter.
Sharon Stadul
I'm a member of Toastmasters International publicizing members' achievements and clubs' events.
Read More on Features
Volume 13, Issue 24, Posted 3:19 PM, 12.19.2017