Rangers Beat Titans with Second-Half Run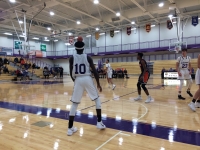 The Lakewood boys basketball team overcame an 11 point halftime deficit to defeat Berea-Midpark 42-34 on Tuesday night at the new LHS gym. Ranger junior Tim Smith had 16 points to lead the comeback, which lifts Lakewood to 3-1 on the season.
The game started dismally for the Rangers, who trailed 10-0 five minutes into the first quarter. Lakewood was out of sync offensively, throwing errant passes and missing shots. The Titans, on the other hand, were making plays. Lakewood finally got its first bucket with 2:35 remaining in the first period. Ranger junior Tommy Sala made a three pointer to cut the lead to 10-3. Berea-Midpark finished the first quarter with a 15-5 lead, and had momentum completely in their favor.
Lakewood stopped the bleeding in the second quarter, holding the Titans to only nine points in the period. Berea-Midpark led 24-13 at the half, still a solid lead. The Rangers took over the game in the third quarter, when their defense competely stifled the Titans. Berea-Midpark only scored two points in eight minutes, and Lakewood's offense woke up with a flurry of baskets. The biggest play came three minutes into the half, when Smith made a four point play by sinking a three pointer while fouled and the ensuing free throw. That cut the lead to 24-20. Lakewood took the lead with 2:20 remaining in the third, as a pair of Noah Stadler free throws made the score 27-26 Rangers. The lead was stretched to 30-36 at the end of three periods.
Smith hit a three pointer early in the fourth quarter to put Lakewood up 33-26. The Titans battled back with a pair of three pointers, but the Rangers never gave up the lead. Junior Zion Kolodinski-Darby made an "old fashioned" three point play (a field goal plus free throw) with 2:38 left that made the score 38-32 Lakewood. He made another field goal 90 seconds later to put the game out of reach -- it was 40-32 with 1:07 to play. The Rangers went on to win 42-34.
Lakewood is on a three game winning streak and is 2-0 in league play. They make their first road trip of the season this Friday, traveling to Olmsted Falls for a conference game against the Bulldogs. Olmsted Falls was the preseason favorite to wint the Southwestern Conference, so it should be a challenging game. Junior varsity is scheduled for 6 p.m. followed by varsity tipoff at around 7:15 p.m.
Mike Deneen
Mike Deneen has extensive experience covering sports and community stories for the Lakewood Observer. Mike has been a Senior Industry Analyst for the Freedonia Group in Cleveland, Ohio, since 1998. He has appeared on CNBC's Closing Bell, NPR's MarketPlace and has been quoted multiple times in The Wall Street Journal. He has made multiple guest appearances on ESPN Cleveland radio. Mike also writes for Inside Northwestern, a website that covers Northwestern Wildcat Athletics. You can reach him on Twitter at @MikeDeneen1
Read More on Sports
Volume 13, Issue 24, Posted 9:50 PM, 12.12.2017