Sounds Of Season Highlights Winter Concerts At Civic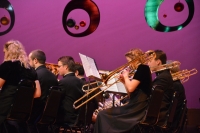 The popular Lakewood High School Sounds of the Season concert, now in its fifth year, will be performed on December 14 & 15 this year at 7:30 pm at the Civic Auditorium. Come and celebrate the holidays with the LHS Performing Arts Department as students perform holiday song, tell holiday stories, and come together for a final carol sing-along with the audience. The following groups will be performing: Chamber Choir, Chamber Orchestra, Symphony Orchestra, Wind Ensemble and Barnstormers.
Special feature this year could be YOU! How...well, in the song "Sleigh Ride," by Leroy Anderson, you hear the sound of a whip to represent the horse-drawn sleigh. Someone has to play the whip...so, the Lakewood Teachers Association will be selling raffle tickets before each show. Cost of each raffle ticket is $1 or 6 for $6. At intermission, the winner will be announced and join Band Director Clinton Steinbrunner and Orchestra Director Dr. Elizabeth Hankins backstage to practice before the Second Act. Money raised from the raffle will be given to Lakewood Community Service Center, The Lakewood Family Room, and North Coast Health. In addition to the wonderful music, the Lakewood High School Art Department will have an art show in the lobby of the Civic Auditorium on both performance nights. This show will be judged and winners announced.
Sounds of Season tickets are $8 at the door or $5 in advance. Pre-sale tickets for both the concert and raffle can be purchased by calling 216-529-4047 or stopping by the Lakewood High Bookroom in person during school hours.
December is dotted with concert dates at the Civic Auditorium in addition to Sounds of the Season. See below for performance dates of our many other musical groups:
Note: All begin at 7:30 p.m.
Dec. 4: 7th Grade Winter Concert
Dec. 6: Sophomore Winter Concert
Dec. 18: LHS Choral Concert
Dec. 19: 6th Grade Winter Concert
Dec. 20: 8th Grade Winter Concert
Read More on Schools
Volume 13, Issue 23, Posted 10:05 PM, 12.05.2017