Second Insomnia Cookies Opens In Lakewood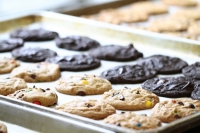 Lakewood just got a whole lot sweeter! Insomnia Cookies, known for its warm, delicious cookies has opened its doors to the public. We are excited to announce that we will now be open and serving warm cookies until 3 AM every day.
Insomnia's cookies are delivered warm out of the oven and straight to the customer's door. Popular cookie flavors include Chocolate Chunk, Snickerdoodle, Chocolate Peanut Butter Cup and the S'mores Deluxe. Insomnia Cookies also serves and delivers two sizes of cookie cakes and a brownie with the option to add toppings such as cookie dough and sprinkles. The requisite pint of cold milk can also be added to any order.
Insomnia Cookies will also offer a full ice cream menu with customizable options such as the cookie a la mode and cookiewich, ice cream sandwiched between any two cookies of your choice. For more information or to order call 1-877-63-COOKIE or visit www.insomniacookies.com. The Lakewood bakery is open with delivery hours beginning at 10 AM on weekdays and 12 PM on weekends, with delivery running through 3 AM each night. The bakery will be open for retail weekdays 9AM-3AM and weekends 11AM-3AM.
INSOMNIA COOKIES –is a rapidly expanding late-night bakery concept with offices in both New York and Philadelphia. Founded in a college dorm room in 2003 at the University of Pennsylvania, by then student, Seth Berkowitz, Insomnia Cookies has been feeding the insatiable hunger of its fans ever since. The company specializes in delivering warm, delicious cookies right to the doors of individuals and companies alike. Whether you're feeding a craving or a crowd, Insomnia Cookies' offerings of cookies, brownies, cookie cakes, ice-cream and even cold milk, has you covered.
Read More on Business News
Volume 13, Issue 23, Posted 10:05 PM, 12.05.2017