Rangers Get First Win in New Gym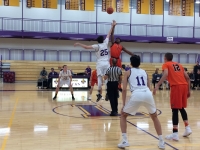 The Lakewood varsity boys basketball team notched its first win at the new LHS gym on Tuesday night, defeating Massillon 60-44. The Rangers fell to St. Edward in the gym's opening game on Friday night, but bounced back to beat the Tigers behind 20 points from senior center Jacob Sala.
The game was very close in the first quarter, as the teams went back-and-forth for the first few minutes. The Rangers led 9-7 at the first intermission, with the two squads combining to score only four field goals in the period. The Rangers opened the second quarter with a three point basket that got the Lakewood offense on track. Lakewood went on a 12-3 over the next five minutes to build a 21-10 lead. Massillon got a pair of three point baskets in the final 2:10 of the half, but the Rangers maintained a 26-19 lead at the break.
The Rangers went on an 8-1 in the first four minutes of the second half, pushing the lead to 34-20. The teams traded baskets for the rest of the third quarter, and Lakewood had a comfortable 44-29 entering the final period. They kept the Tigers at bay for the next few minutes, allowing for reserves to get playing time in the final couple minutes. The final score was 60-44.
Junior Zion Kolodynski-Darby had 11 points for the Rangers, including some key first half free throws. Junior Tim Smith had eight points; junior Tommy Sala had seven. Lakewood (1-1 on the season) opens its conference season with a home game Friday night against Amherst. Varsity tipoff is expected at 7:15pm.
Mike Deneen
Mike Deneen has extensive experience covering sports and community stories for the Lakewood Observer. Mike has been a Senior Industry Analyst for the Freedonia Group in Cleveland, Ohio, since 1998. He has appeared on CNBC's Closing Bell, NPR's MarketPlace and has been quoted multiple times in The Wall Street Journal. He has made multiple guest appearances on ESPN Cleveland radio. Mike also writes for Inside Northwestern, a website that covers Northwestern Wildcat Athletics. You can reach him on Twitter at @MikeDeneen1
Read More on Sports
Volume 13, Issue 24, Posted 10:39 PM, 12.05.2017