LCAC Does It Again! Holiday Help – Food Items And Volunteers - Needed For December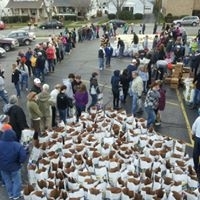 Thanks to hundreds of volunteers of all ages, Lakewood Charitable Assistance Corporation's Thanksgiving food basket distribution was an incredible success! Turkeys and all the fixings needed to prepare a family feast were delivered to 300 Lakewood neighbors in need. According to LCAC President, Ellen Todia, this was the first time in 28 years that distribution day packing was held indoors and, with the help of an army of dedicated volunteers, it went off like clockwork.
LCAC is already gearing up to deliver another round of holiday food baskets to a second group of 300 Lakewood households. Between now and December 14th, LCAC encourages Lakewood residents to drop off gifts of non-perishable food items at Lakewood Hardware, or any one of the following schools: Emerson, Garfield, Harrison, Lincoln, Grant, Roosevelt, Harding and Lakewood City Academy.
Beginning Friday, December 15th, LCAC invites members of the community to step up and help. We know it is a busy time, but many hands are needed to sort the canned food donations prior to home deliveries on Saturday, December 16th. Bring your family and friends. This service opportunity is open to all ages. Specific times, dates and volunteer needs are listed below:
Where? Lakewood Masonic Temple - 15300 Detroit Ave.
Enter through NE door near rear parking lot.
NO RAIN/SNOW DATES - EVENTS ARE HELD REGARDLESS OF WEATHER!!
Friday, Dec. 15th – 10am – 1-2pm – food donations are sorted and prepped for bagging.
6pm - 7pm – non-perishable food bags are filled.
Saturday, Dec. 16th – 9am - 10:30am – perishable food is bagged and all items are prepped to deliver.
10:30am - 12:00pm – drivers deliver food baskets to 300 Lakewood households.
Please dress for the weather on Saturday, as much work may be done outdoors.
Lakewood Charitable Assistance Corp. is a non-profit, all-volunteer organization, dedicated to improving the quality of life of Lakewood's families in need. For more information, or to make a monetary donation, visit us at www.LCAC.info or check out our Facebook page at Lakewood Charitable Assistance Corporation.
Read More on Features
Volume 13, Issue 23, Posted 10:05 PM, 12.05.2017