Rangers Top Demons in Conference Opener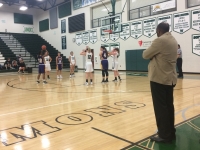 The Lakewood girls basketball team overcame a slow start to defeat Westlake 47-38 Wednesday night in the conference opener. This was the second of a six-game road trip to begin the season. Senior guard Saher Hamdan led the Rangers with 16 points, including some key baskets down the stretch. The victory evens Lakewood's record at 1-1 on the season.
The game started sluggishly for the Ranger offense, as the team trailed 6-2 with less than three minutes remaining in the first quarter. Lakewood tied the game at 6-6 with 2:18 remaining in the period, as seniors Olivia Nagy and Isabel Cintron scored back-to-back baskets. Westlake then went on a 12-2 run, taking an 18-8 lead only 37 seconds into the second quarter. Hamdan, who was held scoreless in the first quarter, then scored five points during a 10-0 Ranger run that tied the game at 18 with 4:41 remaining in the first half. Both teams played very aggressive defense, disrupting passes and altering shots. Westlake scored the only basket of the final four plus minutes, a three pointer that gave them a 21-18 lead at halftime.
The Rangers took their first lead of the game at 6:27 of the third quarter. Hamdan made a pair of free throws to give Lakewood a 24-23 lead. Senior guard Courtney Ribar followed with a three point basket to stretch the lead to 27-23 midway through the third. The teams continued to battle, and Westlake tied the game at 27 with just over two minutes left in the third. The Demons fouled Hamdan on a three point attempt with three seconds remaining in the period, and she made all three free throws to open a 33-28 lead.
Westlake scored the first four points of the fourth quarter, narrowing the lead to 33-32 with 6:13 remaining in the game. The Rangers pulled away with an 8-1 run over the next four minutes. Hamdan scored five of the eight points, making both a three point shot and two free throws. Lakewood went on to win 47-38. Nagy finished the game with 14 points; Cintron had 7; and junior Christian Massey had five.
Lakewood travels to Midview to play the Middies this Saturday in another SWC matchup. Junior varsity is scheduled for 12:30; varsity at 1:45. The Rangers first home game will be December 16 against conference rival Olmsted Falls. That will be the team's first game in the new gymnasium at the high school.
Mike Deneen
Mike Deneen has extensive experience covering sports and community stories for the Lakewood Observer. Mike has been a Senior Industry Analyst for the Freedonia Group in Cleveland, Ohio, since 1998. He has appeared on CNBC's Closing Bell, NPR's MarketPlace and has been quoted multiple times in The Wall Street Journal. He has made multiple guest appearances on ESPN Cleveland radio. Mike also writes for Inside Northwestern, a website that covers Northwestern Wildcat Athletics. You can reach him on Twitter at @MikeDeneen1
Read More on Sports
Volume 13, Issue 23, Posted 11:05 PM, 11.29.2017