Swim With Santa On December 17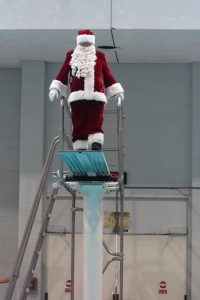 Grab your bathing suits for Lakewood Recreation's annual Swim with Santa. This year's event will be held Sunday, December 17, at the Lakewood High School Pool beginning at 1:00pm.
Children of all ages will participate in Santa's "reindeer games." These fun pool activities will get everyone ready for Santa's appearance. Preregister and save – this event is only $5 if registered by December 15. Walk up registration at the door is $7. All children ages 6 and under must be accompanied in the pool by a swimming adult (no separate charge for the adult). Enjoy fun activities and make sure your name is on the "nice" list this year!
Other returning programs this December at the Lakewood High School Pool include daytime adult swims, early morning lap swims, and more. The up-to-date pool schedule is viewed at www.bit.ly/lhspoolschedule Our complete program guide can be found at www.lakewoodrecreation.com, on Facebook, Twitter or Instagram, all by searching for lkwdrec.
Read More on Schools
Volume 13, Issue 22, Posted 5:56 PM, 11.21.2017