Officially Endorsed By My Friend Who Says Marty Brass Shreds: Reviews Of Recent Releases By Local Bands, Pt. 59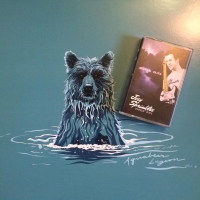 Obligatory Disclaimer: Record reviews are a tricky business. It's one thing to enjoy music, but to, like, pick out what you like about it? That being said, if I review your thing and I didn't like something, don't feel too bad. My opinion doesn't matter all that much.
Joey Sprinkles - Bubble Guts - Mirror Universe Tapes - 10 songs - Cassette, download
I'd like to start this review off with an apology for this being reviewed so late. There were a couple delays (including the package getting lost somewhere in the Observer HQ) that might have seemed like the natural course of things if this was the negative energy music of Chomp, but this is not Chomp, so it's just bad luck. Ya know? This is, however, the guy from Chomp, also known as Joe Boyer. I wasn't quite sure what to expect of this and I guess that's appropriate as Joe hits five different styles on each of the five tracks on the first side. Yep, from the upbeat indie rock of "All Is Well" (some Jay Reatard vibes at the end there) to the acoustic indie rock (this is a different style, trust me) of "I Guess It's Now" (the backing "ooh ooh" vocals on this one give me 60s pop vibes, and that keyboard on the chorus throws this one into Reatard territory as well) to "Bugs On Lightbulbs," which I have to assume is what Green Day would sound like if they were on Lumpy Records, to "You're Part Of It," which is a far more mellow indie rocker (again, totally different style) and is the first of several songs here co-written by the guy from So Cow, if that means anything to you, to "Midnite Blue," which is pretty much a straight power popper. Now, I don't know if you know this, reader, but I like power pop. And I know that Joey Sprinkles straight up stole that chorus hook from somewhere. He has to have. Or maybe not? Maybe he wrote such a catchy melody there that I feel like I've known it forever. If so, nice work. Side B continues in this vein of not quite settling on any particular style. "Destinight" (another Brian Kelly co-writing contribution) is particularly catchy (not sure how that partnership worked out– Brian did music, Joe did lyrics? The opposite? A mixture? I'm kinda curious). "Penny Schemes" threw me off a bit for some reason. It kinda goes for that retro vibe, ya know? Ya probably don't know. Interesting guitar line on it. "What To Live For," again a So Cowlaboration reminds me a bit of Space Wolves, because there's a band I can reference and everybody will know what I'm talking about. If you picked up this tape looking for something like Chomp, "Dead Conviction" is probably as close as you'll get. If Chomp was a little too tuff for you but you still like Joe's whole thing, you'll like this. Good guitarist, competent singer, and he can write some catchy tunes. Enjoyable stuff. 4/5
(mirroruniversetapes.bandcamp.com)
Various - Aquabear Legion Vol. 6 - Aquabear Legion - 23 songs - 2xLP
Ah yes, another Aquabear Legion compilation. I think the fatal flaw of these compilations (at least the ones I've heard) is that there are just too many songs. Make it a single LP instead of a double. I was gonna say something about how the songs on these are so, um, diverse that no one could possibly enjoy the whole thing, and then in the closing moments of Side D, a grind song followed some wimpy piano indie pop, so I'm sure Aquabear Legion already knows that and there's no use in pointing it out. Side B is the closest this thing comes to having a consistent side, as every song on it is some sort of indie/garage or somewhere around there and it's all listenable. Other than that, this is all over the place. You've got some indie (a lot of indie), the aforementioned grindcore tune, some folk, one banjo-led song that creeped me out a little bit but then just got kinda boring, and Columbus' own Bloody Show make an appearance to ensure that there is at least one punk song on here. Thoughts/highlights: I don't really know why people are into R. Ring– their song here was okay but not anything amazing, sorry. The Village Bicycle do some kind of garage-indie thing that made me immediately understand why they're on Jurassic Pop. I think I asked them for a tape and they said they would send one but never did. I'm starting beef with the Village Bicycle here before your very eyes. Bloody Show play a song that sounds like all of their other songs, but I still like it. Superdreamer for some reason objected to sending me a tape. I'm starting beef with Superdreamer Records here before your very eyes. The Safeties' song on here is good, but the 7" is better. I liked Vacation live but their song here I was unimpressed by. Day Creeper, as one might expect, turned in a decent song in "Unfulfilled." Not my favorite Day Creeper song, but it was good anyway. Extra Medium Pony, aside from having a terrible name, play something in-between Green Day and Nirvana. I won't say whether I mean that in a positive or negative way but instead leave it as an exercise for you, the reader. I thought the Leggy track, "Backyard," was decent. Swarming Branch took me by surprise, as their song here was weird but kinda cool. Interesting vocal style. Mary Lynn…this is what Anyway is putting out these days? I don't dislike it, but it ain't Thomas Jefferson Slave Apartments. In fact, it's kind of just pop. Okay enough, though. Andy Gabbard performs a slightly Beatlesque number entitled "Lazy Panda," which in my opinion had lazy lyrics. Yeah, I think I've said all I can. Verdict: man, I don't know. There's some decent stuff here, but nothing killer. Lots of filler, in fact. If only this were a single LP… 3/5
(aquabearlegion.com)
Are you a local-ish band? Do you have a record out? Email vaguelythreatening@gmail.com or send it directly to Observer headquarters: The Lakewood Observer, c/o Buzz Kompier, 14900 Detroit Avenue, Suite 205, Lakewood, OH 44107.
Read More on Arts
Volume 13, Issue 22, Posted 5:56 PM, 11.21.2017