LHS Model UN Club Racks Up Awards At Fall Conference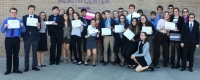 The Lakewood High School Model United Nations Club turned in a fine performance at the Cleveland Council on World Affairs Conference held Nov. 7 & 8 at the Cleveland Metropolitan Bar Association. Senior Co-President Abe Dalisky and sophomore Evan Bell won the Superior Delegation award in the highly competitive Security Council.
Junior Vice President Sasha Seckers and sophomore Aidan Bohac won an Excellent Delegation award. Seniors Emily Erhardt and Jing Feng won Honorable Mention awards, as did junior Co-President Elizabeth Halko and sophomore Tully Worron. Freshman Sydney Heckeler won an award for the best position paper in her committee.
Although team scores are not available yet, club adviser Dr. Chuck Greanoff expects that Lakewood was most likely 3rd or 4th out of 20 schools. Dr. G wished to thank all the leaders — Co-Presidents Halko and Dalisky, Vice Presidents Seckers and Nick Cleary— for their commitment to training and organization. Finally, Dr. G. wishes to thank the Lakewood Ranger Education Foundation for its financial support.
Read More on Schools
Volume 13, Issue 22, Posted 5:56 PM, 11.21.2017