Frontline Service Teams With Geiger's To Provide Toys And Coats For The Homeless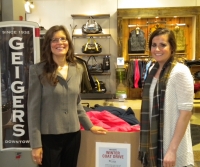 FrontLine Service, Cuyahoga County's largest provider of services to help the homeless, has joined forces with Geiger's to make sure families in poverty receive toys and basic need items this holiday season. The organizations are also cooperating on a parallel program to provide coats to help the homeless over a cold Cleveland winter.
Frontline Service has recruited over 18 companies who will participate in this year's "Twinkle Shop" by encouraging their employees to donate new unopened toys and basic need items for over 200 children. Any Lakewood resident who wants to donate can do so at Geiger's.
Geiger's stores in Lakewood, Chagrin Falls and Downtown Cleveland will serve as collection points where donors can bring in these toys for distribution at the "Twinkle Shop" event on December 13, 2017. Seventy families with over 200 children who were homeless and receive support through FrontLine's young adult, family and veterans' housing program will be attending the event. Over 100 volunteers will be there too.
The toy drive begins on November 1; final drop off will be December 10. Toys can be delivered to Geiger's at 14710 Detroit Avenue in Lakewood, Geiger's in the Chagrin Shopping Plaza in Chagrin Falls, and Geiger's Downtown at 1020 Euclid Avenue, next to Heinen's. More information at shopgeigers.com.
Concurrent with the toy drive, FrontLine Service and Geiger's are asking people to donate "gently used" coats to the homeless. Coats can be dropped off at Geiger's stores from November 27 through December 10. Everyone donating a coat will receive a $25 Geiger's Gift Card, good on the purchase of a new coat.
Last year Geiger's and FrontLine Service provided hundreds of warm winter coats to Cleveland's homeless community.
Tom Gibbons has lived in Lakewood for 35 years and does part time work for Geiger's.
Tom Gibbons
Tom has lived in Lakewood for 35 years and does part time work for Geiger's.
Read More on Non-Profit
Volume 13, Issue 22, Posted 5:56 PM, 11.21.2017