WordStage Ends Its Six Year Run With A FREE program - The Real Story Of Thanksgiving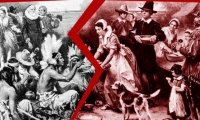 After six seasons of presenting Literary Concerts throughout many venues in Northeast Ohio, WordStage ends its run with a program which examines the troubled history of what is arguably our most popular National Holiday, told from the point of view of the Native American tribes who were affected by it. It will be presented in the Wright Chapel of the Lakewood Presbyterian Church on Friday, November 17, 2017 at 7:30 p.m.
As a thank you to our loyal patrons, the performance will be free to all who might be interested in attending.
The Thanksgiving story you know probably goes a bit like this: English Pilgrims, seeking religious freedom, landed in Plymouth, Massachusetts, where they found a rich land full of animals and were greeted by a friendly Indian named Squanto, who taught them how to plant corn. The true story is more complicated. Culled from material on the First Peoples Website, Time Magazine, The Smithsonian and the Huffington Post, this presentation recounts a history of fragile alliances, inter-tribal warfare, slavery, unscrupulous land grabbing and genocide.
Actors Agnes Herrmann, Paul Slimak and Tim Tavcar will share historical accounts of the troubling events that surrounded not only the first Thanksgiving, but the events afterwards which explain why this holiday is remembered and honored by many Native Americans as a Day of Sorrow.
The WordStage Company members, actors and musicians alike, wish to extend their grateful thanks to the institutions and audience members that have made our six year history in Northeast Ohio possible; most especially the Lakewood Presbyterian Church, The Cleveland Music Settlement's Bop Stop, and the Libraries of Lakewood, Cleveland, Cleveland Heights, Rocky River, Westlake, Hudson and Twinsburg. Sincere thanks to all who have welcomed us into your beautiful venues and allowed us to share our programs with you and your patrons.
Tim Tavcar
Performing Artist Tim Tavcar began his professional Theatrical/Musical career at the Tabor Opera House in Leadville, Colorado. Since then his work as an actor, director, musician and lecturer has been seen in Cleveland, Akron, Chicago, Houston, Williamsburg, VA, Newport, RI, Washington DC's Kennedy Center, NYC's Carnegie Recital Hall and on stages and in concert halls throughout Vermont. He currently serves as an Artistic Associate for Montpelier VT's professional company – Lost Nation Theater. While in Vermont, he founded WordStage in VT in 2007, for which he received a Creation Grant from the Vermont State Arts Council and the National Endowment for the Arts. In addition to creating, producing and directing WordStage performances here in Ohio and Vermont, he has acted and/or directed at The Beck Center, The Blank Canvas Theatre, The Cleveland Public Theatre, Cleveland State University, Dobama Theatre and The Ensemble Theatre. He is currently a resident of the Edgewater area of Cleveland and is a member of the Lakewood Presbyterian Chancel Choir.
Read More on Arts
Volume 13, Issue 21, Posted 5:02 PM, 11.08.2017