Third Grade Students Receive Dictionaries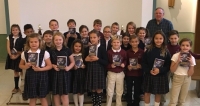 The Rotary Club of Lakewood and Rocky River continued its distribution of dictionaries to the third graders in Lakewood and Rocky River this fall, a project that the club began in 2005. A total of 673 dictionaries were distributed to students at 11 different school buildings.
Jay Rounds, project chair, with assistance from fellow Rotarian, Harlan Radford, stamped each dictionary with the Rotary logo and a place for the student's name.
The following Rotarians visited the schools for interaction with both students and teachers as the dictionaries were distributed: John Clapper, Lynn Donaldson, Jon Fancher, George Frank, Pam Gallagher, Dick Garrett, Chuck Gustafson, Jim Harris, Harlan Radford, Jay and Jean Rounds, and Michael Shoaf.
Members were rewarded with smiles on the students' faces as they received their dictionaries and began to explore their contents. Thank you letters, written by the students, expressde their gratitude and enjoyment in owning their very own dictionary. Teachers indicated that the dictionaries serve as a learning tool within the various content areas.
Read More on Schools
Volume 13, Issue 21, Posted 5:02 PM, 11.08.2017