Ogni Suono Plays Free Concert At The Library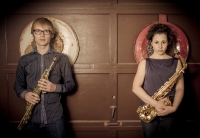 Lakewood Public Library is proud to welcome esteemed saxophone duo Ogni Suono to the Main Library Auditorium on Sunday, December 3, 2017. Formed by American saxophonists Noa Even and Phil Pierick in 2009, Ogni Suono is committed to expanding and promoting repertoire for saxophone duos. Ogni Suono has performed concerts throughout the world, and recent performances have taken place in Singapore, Romania, Chicago, San Francisco, Germany, Israel, Thailand, and Canada.
Even and Pierick note that the timbre of the saxophone is often likened to that of the human voice, and in 2015, the duo launched SaxoVoce, a long-term project exploring the wide-ranging ways of synthesizing saxophone and voice. Their album, Invisible Seams, features some of the duo's first collaborations, and this December Ogni Suono is heading back into the studio to record their next album featuring works from SaxoVoce.
Ogni Suono's Concert takes place on Sunday, December 3, 2017 at 2:00 p.m. in the Main Library Auditorium as part of our Sunday with the Friends series. Admission is free and open to all.
Read More on Library
Volume 13, Issue 21, Posted 5:02 PM, 11.08.2017