From the Archives Of The Lakewood Historical Society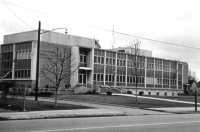 Lakewood's first City Hall was the private residence of the town's fourth Mayor, Jacob Tegardine, who served from 1900 to 1901. In 1918, the estate of Robert Russell Rhodes (now Lakewood Park) was purchased, and the house was used as the second City Hall. That structure was demolished when the offices moved to the current building (pictured here), formally dedicated on October 18, 1959.
Norine Prim
As First Vice President of the Lakewood Historical Society, I will be submitting info pertinent to the Historical Society for publication.
Read More on City
Volume 13, Issue 21, Posted 5:02 PM, 11.08.2017