Eagles Thump Moeller: "Iggy Week" is Here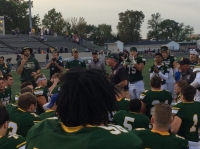 St. Edward thumped Cincinnati Moeller 31-7 Saturday afternoon in a battle of state football powers at First Federal Lakewood Stadium. The victory clinched a home playoff game for the Eagles (9-0), who will wrap up the regular season next week against archrival St. Ignatius.
Moeller entered the game coming off an impressive 41-20 win last week over St. Ignatius. This game began as a defensive battle, which each offense going "three and out" on its first two possessions. The Eagles got on track with their third possession, driving 78 yards on six plays to score the game's first touchdown. Tylan Rice capped the drive with a 13 yard TD run, and Blaine Stencil added the extra point to make the score 7-0 with 1:46 remaining in the first quarter.
Moeller responded with a strong drive of its own, marching 69 yards down to the Eagles 11 yard line. The Eagle defense forced a field goal attempt, which Richard White blocked to hold the score at 7-0 with 7:25 remaining in the first half. The game went back to a defensive struggle, as the teams exchanged punts over the next several minutes. St. Edward struck again just before the half, as Quintel Kent caught a 59 yard touchdown pass from Zach Kincaid with 48 seconds remaining. Stencil added the extra point, and the Eagles held a 14-0 halftime lead.
St. Edward blew the game open early in the third period. Kent caught a 19 yard touchdown pass from Garrett Dzuro to stretch the lead to 21-0. Moeller was forced to punt on their next possession, and Eagle Devin Maddox returned the kick 62 yards for a touchdown. The Eagles led 28-0 with 6:03 left in the third quarter. Stencil added a field goal late in the third quarter to make the lead 31-0 and institute the OHSAA "running clock" rule. Mitchell McKenzie scored a fourth quarter touchdown for the Crusaders, catching a 32 yard pass from Eric Wills. That made the final score 31-7.
After the postgame handshakes, many Eagle players began to yell "Iggy Week!". The Eagles host St. Ignatius next Saturday at First Federal Lakewood Stadium. The Wildcats defeated Cincinnati Xavier 28-14 on Saturday at Byers Field, pushing their record to 8-1 on the season. The Wildcats and Eagles are ranked #1 and #2 in the regional computer rankings respectively, so the winner will take the top seed in the OHSAA playoffs. "We sent a strong message to the state today" St. Edward head coach Tom Lombardo told his team after the game, "we got one more big message to send." Kickoff for the game, newly dubbed "The Battle of the Saints", is scheduled for 7pm.
Mike Deneen
Mike Deneen has extensive experience covering sports and community stories for the Lakewood Observer. Mike has been a Senior Industry Analyst for the Freedonia Group in Cleveland, Ohio, since 1998. He has appeared on CNBC's Closing Bell, NPR's MarketPlace and has been quoted multiple times in The Wall Street Journal. He has made multiple guest appearances on ESPN Cleveland radio. Mike also writes for Inside Northwestern, a website that covers Northwestern Wildcat Athletics. You can reach him on Twitter at @MikeDeneen1
Read More on Sports
Volume 13, Issue 21, Posted 7:45 AM, 10.22.2017