WordStage Presents Halloween Humor And Horror From Historic American Author Ambrose Bierce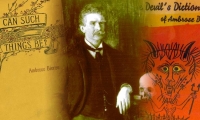 Humor and Horror to Celebrate Halloween 2017 – WordStage presents excerpts from Ambrose Bierce's "The Devil's Dictionary" and "Can Such Things Be?"
The Wright Chapel at the Lakewood Presbyterian Church – 14502 Detroit Ave. Lakewood, OH - Friday, October 27, 2017 at 7:30 p.m.
Ambrose Gwinnett Bierce was an American Civil War soldier, wit, and writer. Bierce's book The Devil's Dictionary was named as one of "The 100 Greatest Masterpieces of American Literature" by the American Revolution Bicentennial Administration. A prolific and versatile writer, Bierce was regarded as one of the most influential journalists in the United States. For his horror writing, he is ranked him alongside Edgar Allan Poe and H.P. Lovecraft as a pioneering writer of macabre fiction. His war stories influenced Stephen Crane, Ernest Hemingway, and others, and he was considered an influential and feared literary critic. In December 1913, Bierce traveled to Chihuahua, Mexico, to gain first-hand experience of the Mexican Revolution. He disappeared, and was rumored to be traveling with rebel troops. He was never seen again. Bierce's witty and wonderfully spine chilling words will be performed by WordStage Core Company members Agnes Herrmann, Paul Slimak and Tim Tavcar accompanied by eerie incidental music performed by violinist Mary Beth Ions and pianist Patrick Wickliffe.
Tickets are a suggested donation of $10 or "Pay what You Will".
For more information visit www.wordstageoh.com or call 216-712-6926.
Tim Tavcar
Performing Artist Tim Tavcar began his professional Theatrical/Musical career at the Tabor Opera House in Leadville, Colorado. Since then his work as an actor, director, musician and lecturer has been seen in Cleveland, Akron, Chicago, Houston, Williamsburg, VA, Newport, RI, Washington DC's Kennedy Center, NYC's Carnegie Recital Hall and on stages and in concert halls throughout Vermont. He currently serves as an Artistic Associate for Montpelier VT's professional company – Lost Nation Theater. While in Vermont, he founded WordStage in VT in 2007, for which he received a Creation Grant from the Vermont State Arts Council and the National Endowment for the Arts. In addition to creating, producing and directing WordStage performances here in Ohio and Vermont, he has acted and/or directed at The Beck Center, The Blank Canvas Theatre, The Cleveland Public Theatre, Cleveland State University, Dobama Theatre and The Ensemble Theatre. He is currently a resident of the Edgewater area of Cleveland and is a member of the Lakewood Presbyterian Chancel Choir.
Read More on Arts
Volume 13, Issue 20, Posted 12:05 PM, 10.17.2017