LPL's Jazz Clinic Series Begins October 29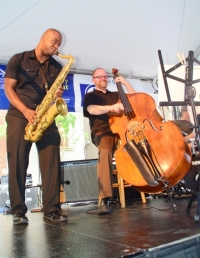 Have you ever wondered what makes jazz …jazz? The Jazz Clinic series, led by Chris Vance, is a four-part educational concert coming to Lakewood Public Library. The classroom is our stage where some of Northeast Ohio's most talented artists will demonstrate the different elements of jazz in jam sessions.
The first installment of this special Sunday With The Friends event will be held on Sunday, October 29, 2017 at 2 p.m. in the Main Library Basement Auditorium. The Jazz Clinic Series will continue at 2 p.m. on the following Sundays: November 26, 2017, January 21, 2018 and February 25, 2018.
Topics include the core elements of jazz, the influence of the Blues, Latin, Brazilian and Rock & Roll genres, specific time periods and luminary jazz artists.
Our music teacher is Chris Vance, owner of Lakewood's Vance Music Studios. His amazing credentials include a Master's of Music in double bass performance from the Cleveland Institute of Music and a few more music-related Bachelor Degrees.
He served as principal Bass in the Bermuda Symphony Orchestra and the Buffalo Opera Company Orchestra. He performs in jazz and rock settings with local greats like Ernie Krivda, Bob Frasier and Bobby Ferrazza as well as past performances with Kassaba and Mark Gridley - just to name a few. In addition to regularly teaching at his studio, he is also an Adjunct Music Faculty member at Cleveland State University and Cuyahoga Community College.
In his spare time he stops by Lakewood Public Library to lead the Jazz Clinic Series! This event connects our community with regional jazz and academic jazz communities - professionals, hobbyists and laymen alike enjoying great music. Each concert will be followed by a Q & A session with audience participation encouraged!
Read More on Library
Volume 13, Issue 20, Posted 12:05 PM, 10.17.2017