Heavy: Reviews Of Recent Releases By Local Bands, Pt. 57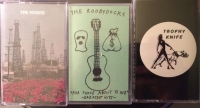 Obligatory Disclaimer: Record reviews are a tricky business. It's one thing to enjoy music, but to, like, pick out what you like about it? That being said, if I review your thing and I didn't like something, don't feel too bad. My opinion doesn't matter all that much.
The Missed - The Missed - Quality Time Records - 10 songs - Cassette, download
I have to admit that I saw this band twice (I think perhaps their first two shows– they were called Dime Disguise at the time) and was not very impressed. Yeah, the musicianship was there, but it just didn't grab me. So it sorta came as a surprise that I liked this tape as much as I did. The Missed are a new band featuring Mickey (Nervosas), Sebastian (Tonawandas), and Timmy (Plain Dealers). There's a mix of stuff on this cassette, most of which I would probably describe as having a mid-90s pop-punk sound. The good kind of pop-punk though, not the more questionable things that term brings to mind. Sometimes there's parts that get a bit more alt-rock and Seb's basslines tend towards a more garage/rock 'n' roll style which brings another element to the table. I can probably see people's biggest complaint about this being Mickey's voice, which I guess is fair enough, it's not for everyone, but she's undeniably a pretty good guitarist, which comes through on several songs here. They change it up from song to song enough that you don't get bored, and overall this is a solid release. My favorite tracks were "Dilly," "Oh It's You," "Thoughts On Lower Gay," "Just Like Cellophane," and "Yellow Leaves." Probably worth checking out. This'll definitely be a controversial statement amongst some of my peers, but I think I like it more than I liked Nervosas. 4/5
(qualitytimerecords.bandcamp.com)
The Roobydocks - For Those About To Rob: Greatest Hits - Cultural - 8 songs - Cassette
For those looking to get into The Roobydocks, who've quickly become one of the best bands in town in my opinion, this isn't a bad place to start. Besides 7 songs that you have if you've kept up with their releases so far, you also get a completely new, never-before-heard song, "The Roobydock Death Cult." Obviously this was the selling point for me, and it was worth buying the tape for. The remainder of the tracks are also great misanthropic punk killers. A nice mixture of stuff from the 7", the split tape with Bulsch, the cassingle, and for newer fans, you even get one song off their ultra-limited debut release "Tavern Demo." That last song, "I Am Going To Kill You," is maybe one of my favorite Roobydocks songs; besides the gun sound effect followed by "yeehaw!", there are some essential John lyrics: "Walk into the store and demand a pack of smokes, I never pay for anything 'cause life's a fucking joke." You can't tell me that's not good. My one complaint about this tape is that it's dubbed…uh…not so greatly, which means you have to turn it up quite a bit and that all the songs are slower than they should be. But I am well aware my complaints are for naught. This is The Roobydocks we're talking about. Have you heard John's lyrics? He doesn't care what I think. Highly recommended. 4.2/5
(discogs.com/seller/Cultural)
Trophy Knife - Trophy Knife - Quality Time Records / Nervous Room Tapes - 8 songs - Cassette, download
For those keeping score at home, Trophy Knife is the latest project from Ricky Hamilton (Fascinating, The Nico Missile, The Sight, Pig Flayer, Shagg etc.), this time with Nat Cherry (Shagg, Cotton Ponys) on vocals and drums. Does every person who comes within a five foot radius of Ricky immediately start three bands? Possibly. I'm beginning to think that Ricky's overextended himself a bit, as a couple of these songs ("Television Set" and "Comrades!") have riffs that I think I've heard before in Rubber Mate songs. Take that as you will. "Comrades!" sounds like if Chain & The Gang had nothing to say and weren't that excited about saying it. "2027" sounds like someone told these two the title of an Easter Monkeys song and told them to write a song based on that. I think the main problem here is that it's all too "minimalist." I'd like to think there's a fine line between minimalism and playing the same riff over and over again, having repetitive lyrics, and stand-up drums (I'm never a big fan of stand-up drums, Gibson Bros. notwithstanding). The drums thing really brings them down in a couple places when Nat switches to the cymbal from the floor tom and suddenly there's no longer any bass in the mix. I do like the songs where they get a little more energetic, "What Is Truth?" and "Whiplash" in particular, and "Race To End The World" is definitely a solid tune, proving that Ricky's at his best when he sticks to more poppy, melodic material (I think there even might be a bass on there? Not sure.). If this was instead a 45 of "What Is Truth?" and "Race To End The World," I probably would've thought that this was pretty good. Alas. Song 7 ("Whiplash") comes to an end and I'm almost thinking that this is okay, and then "Yr Dumb (I'm Not)" comes on. Is this song a joke? That's the only acceptable excuse for these lyrics. 3.3/5
(qualitytimerecords.bandcamp.com)
Are you a local-ish band? Do you have a record out? Email vaguelythreatening@gmail.com or send it directly to Observer headquarters: The Lakewood Observer, c/o Buzz Kompier, 14900 Detroit Avenue, Suite 205, Lakewood, OH 44107.
Read More on Arts
Volume 13, Issue 20, Posted 12:05 PM, 10.17.2017