District Tree Program Blooming: Gift-a-Tree Fund, New Construction Has Number Of Trees Growing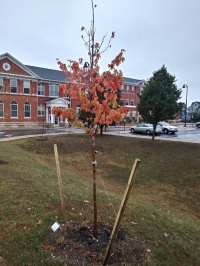 In April 2016, Lakewood City Schools partnered with the City of Lakewood to expand the city's Gift-a-Tree Fund to the school district. Eighteen months into the program, donations have been made that will benefit Lakewood students and the community for generations to come.
Since the program started, donations have made it possible to plant seven trees – two at Harrison Elementary, three at Garfield Middle School, and two at Lakewood High – and five more are awaiting planting at LHS this coming spring once construction is complete.
"We are thrilled that the community has begun to use the program to help keep our school grounds green with trees," said Marianne Quasebarth Usiak, chair of the Keep Lakewood Beautiful Tree Committee.
The trees planted have been different varieties including Patriot and American Elms, Sawtooth Oak and Red Maple. Depending on the species, the trees range from $250-300.
In addition to the trees donated through the Gift-a-Tree fund, the District has planted 167 trees at the three elementary schools completed in 2016 (Grant, Lincoln and Roosevelt) and 53 will be planted around the high school when landscaping is complete.
A number of studies have shown that shade trees provide cooling benefits to people, but also reduce cooling costs of buildings and extend pavement life. Trees also have been found to reduce noise pollution, and storm-water runoff. They also generate oxygen and remove air pollution.
Money donated to the fund goes toward the purchasing and planting of trees on school grounds as well as for the care of trees after planting in order to give them the best chance to grow and reach maturity.
To donate to the Give-a-Tree Fund, go to the District website at www.lakewoodcityschools.org and click on the Give-a-Tree Quick Link on the left-hand side of the page.
Read More on Schools
Volume 13, Issue 20, Posted 12:05 PM, 10.17.2017