Eagles Roll Past Canada Prep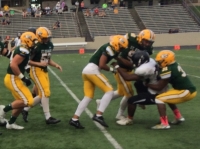 St. Edward easily defeated Canada Prep 31-7 on Saturday afternoon at First Federal Lakewood Stadium. The victory pushed the Eagles record to 8-0 on the season, and likely clinched a spot in the OHSAA playoffs. It also served tune up for the Eagles, who now face state powers Moeller and St. Ignatius in the final two weeks of the season.
The Eagles took the opening kickoff and marched 67 yards on their opening drive of the game. Senior quarterback Zach Kincaid capped the nine-play drive with a one yard touchdown run. Senior Blaine Stencil added the extra point, and St. Edward led 7-0 with 7:18 remaining in the first period. The Raiders completed a 39 yard pass on their first offensive play, but the Eagles forced a fumble that gave the ball back to their offense. Kincaid then led a 63 yard touchdown drive that widened the lead to 14-0 with 3:55 remaining in the first quarter.
Canada Prep only had a couple dozen players available, and the Eagles were able to exploit their numerical advantage in the second quarter. They added two more touchdowns to their lead. Both touchdown plays were passes to senior Jalen Staples; the first was a 13 yard pass from Kincaid, the second a 14 yarder from junior quarterback Garrett Dzuro. Stencil added a 35 yard field goal as the clock expired in the first half. That made the score 31-0 at the break, and put the OHSAA "running clock" rule into effect.
The Eagles used a large number of reserves in the second half, and the Raiders continued to play hard. Canada Prep did not allow any more Eagle scores, and got a touchdown of its own in the fourth quarter. St. Edward closed the game out 31-7, and head coach Tom Lombardo turned his team's attention to their last two games. "We've got to send a message to the state" he told the team after the game. St. Edward hosts Moeller next Saturday at 4pm. Moeller (4-4) beat previously undefeated St. Ignatius yesterday by a score of 41-20.
Mike Deneen
Mike Deneen has extensive experience covering sports and community stories for the Lakewood Observer. Mike has been a Senior Industry Analyst for the Freedonia Group in Cleveland, Ohio, since 1998. He has appeared on CNBC's Closing Bell, NPR's MarketPlace and has been quoted multiple times in The Wall Street Journal. He has made multiple guest appearances on ESPN Cleveland radio. Mike also writes for Inside Northwestern, a website that covers Northwestern Wildcat Athletics. You can reach him on Twitter at @MikeDeneen1
Read More on Sports
Volume 13, Issue 21, Posted 6:05 PM, 10.14.2017