Soccer Updates & Tournament News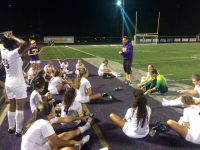 The Lakewood girls soccer team wrapped up its regular season with a scoreless draw against North Ridgeville on Wednesday night. The game was preceded by Senior Night, as eight players were recognized for their contributions to the program. This year's seniors include captains Grace Ladue, Maya Costanzo, and Seta Nagbe; as well as Victoria Gregg, Audra Tuleta, Sophia Parker, Maria Drummond and Olivia Nagy.
The game, which took place on a chilly night at First Federal Lakewood Stadium, was evenly played throughout. Each team had one corner kick in the first half, and North Ridgeville had a couple of missed shots. The game kept an even pace to start the second half, but things picked up late in the game. The Rangers had their best scoring opportunity with 15:32 left in the game. Costanzo had a ball that was rolling into the North Ridgeville goal behind the keeper, but a Ridgeville player managed to kick it out just one foot before it crossed the goal line.
North Ridgeville had an apparent goal to take the lead with 8:23 left, but it was whistled offsides. Lakewood goalkeeper Libby Gliozzi made a save and faced down a corner kick late in the game to preserve the shutout. Lakewood had a last-minute rally on the Ridgeville side of the field, but was unable to score in the closing seconds. The game ended 0-0. Lakewood moves on to face Normandy in the first round of the OHSAA championship tournament. The Rangers will host the game on Monday at 7pm at Garfield Middle School. The winner of the matchup advances to play Shaker Heights on October 19th.
Earlier this week the Ranger boys team won its sixth game in a row on Tuesday night at Cleveland Heights. The game was rescheduled from October 2nd. The Rangers (11-4 on the season) won 2-0 behind goals from Malvin Gblah and Isaac Karel. Keeper George Hericks had four saves in the shutout. The boys finish their regular season on Saturday night at Rocky River in the annual Riverwood Cup game. Kickoff is scheduled for 7pm. They open OHSAA tournament play on October 21st at 7pm at Garfield. They will take on the winner of a first round game between Lincoln West and Garfield Heights.
St. Edward will finish its regular season on Saturday night at home against Olmsted Falls. Like the Rangers, they got a first round bye in the OHSAA tournament and will host a game on October 21st at 7pm. They will take on either Normandy or John Hay.
Mike Deneen
Mike Deneen has extensive experience covering sports and community stories for the Lakewood Observer. Mike has been a Senior Industry Analyst for the Freedonia Group in Cleveland, Ohio, since 1998. He has appeared on CNBC's Closing Bell, NPR's MarketPlace and has been quoted multiple times in The Wall Street Journal. He has made multiple guest appearances on ESPN Cleveland radio. Mike also writes for Inside Northwestern, a website that covers Northwestern Wildcat Athletics. You can reach him on Twitter at @MikeDeneen1
Read More on Sports
Volume 13, Issue 20, Posted 9:32 AM, 10.12.2017