Rangers Top Midview 8-0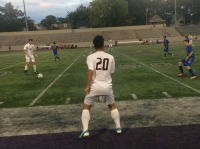 The LHS boys soccer team returned home Wednesday night to defeat Midview 8-0 at First Federal Lakewood Stadium. The win comes stretches the team's winning streak to three games, and they have won six of their last seven games. Junior Malvin Gblah was the leading scorer in the game with three goals.
The Rangers took control of the game early against a young Middie team. Junior captain Jack Hueter opened the scoring with a goal eight and half minutes into the game. Gblah provided the assist, making the score 1-0. Lakewood continued to dominate possession, but didn't score again until midway through the half. Senior Hehghay Ler scored from a Heuter assist to make the game 2-0 with 19:29 left in the half. Gblah scored his first goal with 4:10 remaining in the half. Senior Chris Kafley assisted on the play, and the score stood at 3-0 at half.
The floodgates opened in the second half, as Lakewood wore down Midview's defense. At just over one minute into the second half, Gblah scored again off an assist from senior Attila Nagy. Senior Spencer Rose scored five minutes later from an assist by Kafley. Senior Ben Harvey joined the barrage 15 minutes later to make the game 6-0. Nagy scored a minute later off a Gblah assist, and Gblah scored the final goal of the night off an assist from senior Abdi Mayingwa. Ranger goalkeeper George Hericks had a clean sheet, and backup keeper Timothy Daso also held the Middies scoreless in relief. Each keeper had one save.
Lakewood's record improved to 8-4 on the season, 4-4 in the Southwestern Conference. The Rangers return to action Saturday night at home against conference rival North Ridgeville. The 7pm game will be preceded by Senior Night festivities to honor this year's graduating class.
Mike Deneen
Mike Deneen has extensive experience covering sports and community stories for the Lakewood Observer. Mike has been a Senior Industry Analyst for the Freedonia Group in Cleveland, Ohio, since 1998. He has appeared on CNBC's Closing Bell, NPR's MarketPlace and has been quoted multiple times in The Wall Street Journal. He has made multiple guest appearances on ESPN Cleveland radio. Mike also writes for Inside Northwestern, a website that covers Northwestern Wildcat Athletics. You can reach him on Twitter at @MikeDeneen1
Read More on Sports
Volume 13, Issue 20, Posted 1:35 PM, 10.05.2017