Student-Run Ranger Cafe Opens Oct. 24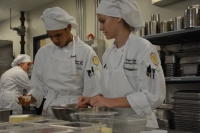 The Ranger Café at West Shore, located at Lakewood High School, will be open for business beginning on Tuesday, October 24. Ranger Café is operated by the students and staff of the Culinary Arts program of the West Shore Career-Technical District. They cook the food, wait on the tables, manage the cash register and everything else that goes along with running a restaurant. The food is fabulous and the prices reasonable!
The café is open on Tuesdays and Wednesdays through April 18, 2018 and is closed on days that school is not in session such as over Winter Break or a snow day. The café also must close on a variety of days due to testing and on the Tuesday following a Monday holiday.
New menu items this year include pork medallions, a bacon burger with cheese, roasted tomatoes, pickled red onion, basil aioli, cheese and lettuce on a toasted housemade bun, and a turkey panini with asiago cheese, roasted tomatoes, red onions and basil aioli on ciabatta bread. A house favorite, crispy chicken on housemade cheddar biscuits with redeye black pepper gravy will be back on the menu.
Reservations are required. Please call 216-529-4165 and select "1". Café hours are 12:00-1:30 pm. Walk-ins will be taken on a space available basis. Please come and support our aspiring chefs and the Culinary Arts program.
Read More on Schools
Volume 13, Issue 19, Posted 5:13 PM, 10.03.2017