Participate In Great Decisions In The Library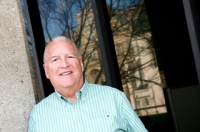 On select Saturday mornings this fall and winter, Lakewood Public Library will be joining other libraries across the country for Great Decisions in the Library, America's largest discussion program on world affairs. The Great Decisions program highlights eight critical foreign policy challenges facing Americans each year. In libraries across the country, Great Decisions discussion group participants discuss and debate each issue. Each session will focus on one of the eight challenges selected by the Foreign Policy Association, and will begin with a thirty minute video they have provided for each subject after which a discussion will be led by an expert.
On Saturday, October 7 at 10 a.m. in the Main Multipurpose Room, William Fickinger will lead a discussion on Nuclear Security: The Enduring Challenge of Nuclear Weapons. Although nuclear nonproliferation was a top priority for the Obama administration, major threats persist from countries such as North Korea and Russia. Furthermore, the possibility that terrorists will carry out an attack using a dirty bomb, made from captured nuclear materials, looks increasingly likely. William Fickinger is a retired professor from Case Western Reserve University and a board member of Cleveland Peace Action.
Other upcoming Great Decisions programs include: Conflict in the South China Sea led by Paul Schroeder, PhD (October 21, 2017); The Future of Europe: Coping with Crisis (November 4, 2017); Trade, Jobs and Politics (November 18, 2017); U.S. Foreign Policy and Petroleum (December 2, 2017); Prospects for Afghanistan and Pakistan led by Karl Kaltenthaler PhD (December 16, 2017); and Saudi Arabia in Transition (December 30, 2017).
All of the Great Decisions in the Library programs take place Saturday mornings at 10 a.m. in the Main Library's First Floor Multipurpose Room. Admission is free and open to all.
Read More on Library
Volume 13, Issue 19, Posted 5:13 PM, 10.03.2017