Clifton Blvd Extension: Great News!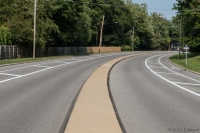 Historical Clifton Park is having the four lanes of the Clifton Blvd Extension reduced to two lanes with bike lanes on each side of the road from West Clifton to the Rocky River bridge.
In 1964 the Clifton Park neighborhood was divided by a four lane highway. Besides the unattractiveness of the road, no sidewalks and highway lighting, the worst part of this mistake was the separation of hundreds of neighbors.
Over 50 years later, in March 2013, Clifton Park residents Connie Mansell and Tom Feser contacted ODOT, NOACA, and Mayor Summers to see if it was possible to reduce the four lanes of traffic to two, add bike paths, sidewalks, crosswalk, and change the highway lighting to neighborhood friendly lighting.
After almost four years, on December 18, 2016, Lakewood City Council included the requested changes into their budget. The current four lanes of automobile traffic have been reduced to two lanes with the remaining lanes being designated for bicycle use. Eventually sidewalks and a crosswalk will be installed.
The ultimate goal of this project, beyond what the City of Lakewood has committed to, is to make this portion of Clifton Blvd. a "complete street" that is safer, more environmentally and people friendly with plans that include, park benches, new lighting, and landscaping. And hopefully this will bring the community closer together.
The work once handled by the Clifton Park neighbors is now being handled by a new organization. We have started the "Clifton Blvd. Extension Support Organization" (CBE): cbeso.org. It was formed to continue working on this project. This new organization is represented by Lakewood residents both within and outside of Clifton Park. The changes to this small ½ mile stretch of road will have a tremendous positive impact on all of Lakewood. This project is leading the way for bike transportation along Lake Rd and Lake Ave east to Edgewater Park and south to the Metro Parks.
If you would like to receive updated information on the progress of this project email your name, address, and email to: cbesuporg@gmail.com.
Read More on Civic Groups
Volume 13, Issue 19, Posted 5:13 PM, 10.03.2017