Bring Back Splat: Reviews Of Recent Releases By Local Bands, Pt. 56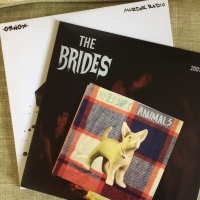 Obligatory Disclaimer: Record reviews are a tricky business. It's one thing to enjoy music, but to, like, pick out what you like about it? That being said, if I review your thing and I didn't like something, don't feel too bad. My opinion doesn't matter all that much.
The Brides - 2001-2003 - Black Tongue Records / 100% Zero Records - 7 songs - LP
This was recorded in 2003 but has gone unreleased until now. The Brides were from Kent, if I'm not mistaken, and play some heavy rock/metal/doom type stuff. Let me be the first to tell you that those aren't the kind of genres I spend a lot of time listening to or really know that much about. So, with that out of the way, this isn't bad. There's some good riffs in there that the band really drives into your head. I think my favorite here is probably the closing track "Dirt Nap." My biggest problem with this is that I'm not a huge fan of the vocal style. In fact, I think I would like it more with a different vocalist, or maybe if Don Brown just changed it up a bit. Aside from that, it's more listenable than I thought it would be. People who are more into this kind of thing than I am have told me that this is good stuff. I enjoyed it well enough, I guess. It's not the first band I would go to when I want to hear a band that starts with the letters "Br" and has Matt Lindsay on guitar, but it's decent. I like how closely the silver vinyl matches the text on the center labels, too. Nice one. 3.5/5
(100zerorecords.com)
Obnox - Murder Radio - Ever/Never Records - 10 songs - LP
From the people I talked to, I kinda felt like I was in the minority of people who liked the last Obnox record, "Niggative Approach." I guess people thought it wasn't punk enough or something dumb like that. Anyway, this record should fill that void for those people. Side A here is pretty unstoppable. "Woe Is Me" and "Enter The Hater" are great Obnox garage-punkers that have a sorta mid-'70s protopunk thing going on. "I Hate Everything" isn't the punk snarler the title might have you expecting, but is a quite good song anyway with more of a late-'60s feel and someone (I think Chuck Cieslik) playing a solo over the whole song. That solo continues into "The Movement," which echoes the opening track "Movimiento" (and how does Bim make what's essentially an introduction track so catchy anyway?) but makes it even more psychedelic. "Bangaar" brings in a whole new backing band for a good example of Obnox head honcho Lamont Thomas's psych-hip hop mission, but most of the album features a pretty steady lineup of Bim, Chuck Cieslik on guitar, and Steve Mehlman on drums. I've really liked seeing Obnox live ever since Steve became the consistent drummer. He just seems to get the vibe, you know what I'm saying, man? Having him on most of this record is pretty cool. Side B doesn't quite keep up the momentum, but still has some pretty good moments. It's got the heavier, more jammed-out material which generally I like, but I actually have a complaint about this record that I don't believe I've had about previous Nox records. Something about either the mixing or the mastering on this just doesn't grab me. Some of the songs (I really noticed it on "Enter The Hater") sound pretty thin. I assume Paul Mac did this one, so I'm not sure what went on. There's just something a bit off. Still a solid record with good songs. Obnox fans thus far will be quite pleased. And Side A is a total killer, weird mix and all. 3.9/5
(this is an advance review, but this record will be available from evernever-records.bandcamp.com very soon. Or go see Obnox live and pick one up.)
Sister Smirk - Animals - Quality Time Records / Wax Mage Records - 3 songs - 7", download
I don't know why exactly, but for some reason I went into this expecting to not like it nearly as much as I ended up liking it. For people who haven't paid attention to the Cleveland indie scene, Sister Smirk is the solo project of Roseanna Safos (you may remember her from Goldmines, Part-Time Lover, Shale Satans– this record features members of each of those bands backing her up– or any of the million other bands she's been in). It's far more hi-fi than the tape (which came out last year on Peanut Butter) and as I said before, features a full band (the tape was all Roseanna, except for one song that had Drew Ritchey and Jason Look on it). I've already used parentheses far too many times in this review. "Animals" kicks off with an inexplicable bomb drop sound effect and then a pleasant, serene pop tune that after a few listens I was unable to get out of my head for a few days. Then a more menacing bridge kicks in with yelling and an overall vibe that kinda reminds me of They Might Be Giants in a way. The song gets a bit dark for a minute before going back to the nice part, but now it feels more ominous. I wasn't into it at first, but once I repeated it a couple times, I think it may be one of the best Sister Smirk songs yet. On the flip side, we have two songs with "Baby" in the title. "Baby Lady" has the early '60s pop feel that Goldmines get into sometimes (perhaps the fact that three members of Goldmines are on this very record contributes to that. Or maybe not, what do I know?). Again, it's a super catchy song. "I Found My Baby" is a repeat from the tape rerecorded. I kinda miss the slide guitar from the other version (there's a little bit here, but it's way more restrained), but it's still solid. I think the bridge is different? I didn't put on the cassette to compare, but I don't remember it sounding like it does here. I'm probably wrong. If you like catchy pop songs, you can't really go wrong here. Not a fan of the sleeve, though. Sorry. 4/5
(qualitytimerecords.bandcamp.com)
Are you a local-ish band? Do you have a record out? Email vaguelythreatening@gmail.com or send it directly to Observer headquarters: The Lakewood Observer, c/o Buzz Kompier, 14900 Detroit Avenue, Suite 205, Lakewood, OH 44107.
Read More on Arts
Volume 13, Issue 20, Posted 5:20 PM, 10.03.2017