Book Review: "Friday Night Light" By Alex Ward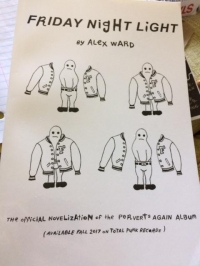 I don't really read book reviews or anything, so I don't really know how to write them. I guess I'll start by giving a quick synopsis. Friday Night Light follows the adventures of an unnamed teen narrator as he attempts to rescue his Little Brother (referred to only as Little Brother, or sometimes L.B.) from the clutches of various evils, including cruel Teen Warden Longlegger and college. Along the way he joins the football team and learns more about himself than he ever wanted to know. I think that's about the most I can say without spoiling it.
This wonderful novel is an adaptation of the album "Friday Night Light" by Alex Ward's music group Perverts Again, which is not currently available, but will be soon. It's not a concept album, despite what this novel may make you think, but I assume the songs will probably follow some kind of similar plot to what is described in the chapters of this book. It is a funny, entertaining read. Much like the music of Perverts Again, it's totally weird but just so good at the same time. The awkward situations our narrator finds himself in, which in most cases he makes worse are just so goofy and weird you can't help but feel for him, despite his many faults. He and his brother murder a random man in the first chapter, the first of many randomly occurring murders in the book.
Really, I don't know what to say about this book. It's really, really good. I highly recommend you read it just to have the experience. These guys can do no wrong. I really hope the album doesn't suck now that I've said that.
Friday Night Light is available for purchase at makethemwonderwhy.bigcartel.com
Read More on Arts
Volume 13, Issue 17, Posted 10:44 PM, 09.28.2017