This Land Is Your Land: Family Story Times About Diversity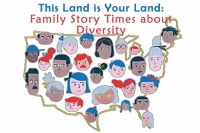 Lakewood Public Library is launching an exciting new story time series this fall, This Land is Your Land: Family Story Times about Diversity. This story time is open to families with children ages 0-8, but ALL are welcome! The goal is to promote an inclusive community by creating a safe space for children and families to learn and discuss current issues through story time. Topics for this fall and winter include differently-abled people, LGBTQ+ people, gender identity, immigrant and refugee rights, and racial equality. Research suggests biases may form at a much earlier age than previously thought, sometimes as early as three years old. Literature is a wonderful way to introduce topics of diversity to children in a way that is developmentally appropriate and fun! Each month will focus on a different social justice issue through age-appropriate books, songs and a craft or activity at the end.
The program will be held monthly on Sundays at 3:30 p.m. in the Main Library Activity Room.
Register online at lakewoodpubliclibrary.org/youth
or call (216)226-8275 ext. 140.
October 8, 2017
LGBTQ+Justice
November 5, 2017
Disability Justice
January 28, 2018
Immigrant Justice
February 25, 2018
Racial Justice
Read More on Library
Volume 13, Issue 19, Posted 9:25 PM, 09.19.2017