Sixth Annual Hispanic Heritage Exhibition At Beck Center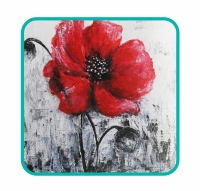 Beck Center for the Arts is pleased to present the sixth annual Hispanic Heritage exhibition in the Jean Bulicek Galleria, focusing on scholarship funds with support from the Cleveland Foundation. In honor of Hispanic Heritage Month, the work will be on display September 15 - October 8, 2017. An Artists' Reception and Panel Discussion with live music and small bites will take place Thursday, September 28 from 5:30 - 8 p.m. Panel discussion begins at 6 p.m. The exhibition and reception are free and open to the public.
"This important exhibition celebrates working professionals from our region, and showcases the diversity of the Hispanic culture that enriches our local community," remarked Ed Gallagher, Director of Education. Included are the eclectic and dynamic works of Terry Flores, Rene Polin, Dr. Maria Pujana. Select books of author Alma Flor Ada with her collaborators including author F. Isabel Campoy, adaptations by Alice Schertle, and translations by Rosalma Zubizarreta, featuring the illustrations of Angela Dominguez, Vivi Escriva, Simon Silva, and Ulises Wensell. Ten percent of all art sales will go towards scholarship funds benefitting students in nearby under-served areas wishing to pursue arts education at Beck Center.
Participants in the September 28th panel discussion include:
Grafton Nunes, President, Cleveland Institute of Art
Rene Polin, President and Founder, Balance Inc.
Ronald B. Richard, President and CEO, Cleveland Foundation
For more information about upcoming exhibitions at Beck Center, visit beckcenter.org. For gallery hours, call Customer Service at 216.521.2540 x10. Beck Center is located at 17801 Detroit Avenue in Lakewood. Free onsite parking is available.
Beth Kretschmar
Director of Marketing, Beck Center for the Arts
Read More on Arts
Volume 13, Issue 18, Posted 9:26 PM, 09.19.2017