National Merit Semifinalist Leads List Of LHS Academic All-Stars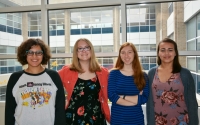 The annual September announcements of the National Merit Scholarship Program recognitions and Advanced Placement Scholars includes Lakewood High students who are among the top academic students in the nation. Based on tests taken in the 2016-2017 school year, the latest LHS academic stars include National Merit Semifinalist and senior Veronica Lee, three National Merit Commended Students and 85 AP Scholars, including four National AP Scholars.
More than 1.6 million students in over 22,000 high schools entered the National Merit Scholarship Corporation competition, with 16,000 top scorers named Semifinalists. Students enter the competition by taking the PSAT their junior year. Semifinalists represent less than 1% of U. S. high school seniors and are the highest scoring entrants in their state. Lee is now eligible to continue on in the competition in hopes of being named a Finalist and receiving one of more than 7,500 scholarships to be awarded in the spring.
In addition to Lee's Semifinalist status, seniors Bailey Manke, Claire Walkosak and Eva Wynn were named National Merit Commended Students for placing among the top 5% of PSAT participants. Although these students will not continue in the scholarship competition, students that earn Commended Student status have demonstrated outstanding academic potential by their strong performance in this highly competitive program.
In addition to LHS' National Merit honorees, students from the Classes of 2017, 2018 and 2019 have earned AP Scholar Awards in recognition of their exceptional achievement on the Advanced Placement Exams taken each spring.
National AP Scholar, an award earned by averaging at least a 4 on all AP Exams taken, and scores of 4 or higher on eight or more of these exams:
Class of 2017: Ian Bell, Rachel Daso, Zachary Dudzik and William Horschke
AP Scholars with Distinction, an award earned by averaging at least 3.5 on all AP Exams taken, and grades of 3 or higher on five or more of these exams:
Class of 2017: Ian Bell, Henry Bish, Rachel Daso, Ryan Detwiler, Zachary Dudzik, William Horschke, Lauren Klann, Donald McCrae, Kelley Reis, Caleigh Sheehan, Evan Suttell, Micah Swartz, Rhianna Zuby
Class of 2017: Kevin Cush, Abe Dalisky, Brian Donahoe, Damien Jouriles, Veronica Lee
AP Scholars with Honor earn their recognition by averaging at least 3.25 on all AP Exams taken and grades of 3 or higher on four or more of these exams:
Class of 2017: Veronica Kress, Yanhao Lin, Lauren Lowell, Julia Neff, Ethan Nieves-Stames, Ava Olic, Abigail Stone, Maya Sutcliff
Class of 2018: Emma Allenson, Jacob Brown, Emily Erhardt, Maximillian Evans, Brennan Foran, Zachary Howe, Isaac Karel, Abby LaForm, Colman McGuan, Sophia Parker, Akosh Raffai, Cody Satayathum, Isabella Smith, Claire Walkosak, Eva Wynn
Class of 2019: Andrew Sheldon
AP Scholars, is an award earned by completing three or more AP Exams with grades of 3 or higher. The AP Scholars are:

Class of 2017: Adnan Abdic, Lillian Alvino, Alyssa Amato, May Ariza, Hanna Chodzin, Anna Kotansky, Halle Krebs, Rachel Lowell, Margot Lybarger, Hannah Marek, Brendan McCallum, Jane Mechenbier, Elena Mulready, Sophia Nanni, Olivia Newton, Elizabeth Pearlman, Emily Pearlman, Preston Polen, Hanna Salo, Gunnar Stockman, Michael Swanson, Artemis Tsokantas, Emma Yonkers, George N. Young, Stephen Zanghi
Class of 2018: Alexander Aoun, Sarah Bene, Joseph Burtzlaff, Caitlin Cimino, Matthew Elaban, Jing Feng, Ella Germaine, Kazimir Klein, Madyson Lewellyn, Elyza MIhalski, Jason Morgenstern, Seta Nagbe, Olivia Nagy, Isabel Ostrowski, Elizabeth Shuga, Sandor Sundem

Class of 2019: Nicholas Cleary, Timothy Daso
Read More on Schools
Volume 13, Issue 18, Posted 9:26 PM, 09.19.2017