Lakewood Chamber Hosts Evening Of Business Storytelling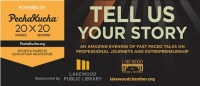 The Lakewood Chamber of Commerce will host 'Tell Us Your Story powered by PechaKucha,' an informal and fun gathering where community and business leaders will share their career stories and entrepreneurial journeys in the PechaKucha 20x20 format. The event, organized by the Chamber's Education Task Force and sponsored by Lakewood Public Library, will be held on Thursday, September 21st at Around the Corner in Lakewood.
Not everyone has had a straight path to the business they own or the position they hold. Many have taken a more circuitous route, building on past experiences to arrive at what might be an entirely different career than originally planned. Enjoy an amazing evening of fast paced talks on professional journeys and entrepreneurship where presenters will tell their stories in the PechaKucha 20x20 format: a presentation style in which 20 slides are shown for 20 seconds each (6 minutes and 40 seconds in total) and the presenter talks as the images advance automatically. The PechaKucha format keeps presentations concise and fast-paced and powers multiple speaker events regionally and around the world. 'Tell Us Your Story' is the Chamber's second annual 'powered by PechaKucha' event, building on the success of the 'Lakewood Culture Club' PechaKucha night held by the Lakewood Chamber of Commerce in September 2016.
Tell Us Your Story presenters include: Yakoob Badat (House Principal, Lakewood High School), Karen Bosworth (Owner, KB Confections), Michael Christoff (Lakewood resident and Architect at Vocon), Charity D'Amato (Owner, Studio Chartreuse), Judy Grzybowski (Manager, Lakewood Public Library), Tim Hayes (CEO, Cardboard Helicopter), Diane Helbig (Owner, Seize This Day), Jessica Parkison (Owner, Salt+ Cleveland), and Mary Ann Stropkay (SVP/Chief Revenue Officer, First Federal Lakewood).
Tell Us Your Story powered by PechaKucha will be held on Thursday, September 21st at Around the Corner's Warehouse Room (18616 Detroit Avenue, Lakewood) at 6:30 p.m. The event is free, cash bar. Registration is encouraged: www.lakewoodchamber.org
"Powered by PechaKucha" events are one-off events that are separate from regular city-based PechaKucha Nights, and are usually held as part of festivals and conferences, but can also act as standalone events. These events include presentations that use the PechaKucha 20 images x 20 seconds format. Find out more at PechaKucha.org.
Read More on Business News
Volume 13, Issue 18, Posted 9:26 PM, 09.19.2017