Fall Book Sale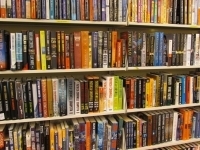 There are precious few things that compare to having a good book to read, especially when you need something to distract you from the impending gloom of wintertime. The feeling of home that having an adventure between your fingers can bring; as you delve into the stories of the epic literary heroes of our time is one of the best feelings there is, and that is what we want to lend a hand with, here at the Lakewood Public Library.
Come join us for our Fall book sale on Saturday October 7, beginning at 9:00 a.m, and continuing until 5:00 p.m. in our main library basement. We have an especially amazing collection of history books, focusing on aviation and World War II. As always, you may view the selection early, on Thursday October 5 from 6:00 p.m. to 9:00 p.m., at our preview book sale in our main Library basement. All you need to do is to become a member of the Friends of the Library. A membership may be purchased at our main circulation desk, through the mail, through the library's website at lakewoodpubliclibrary.org or even at the door of the book sale.
For those who wish to sign up, the membership fee is only $3 a year. The profit of each book sale goes into the programs and amenities we offer here at Lakewood Public Library, and the hard work put in by the Friends of the Library is very much what we have to thank for our colorful array of extraordinary events this year. It is the Friends top priority to make sure that there is an amazing range of things to choose from at the sale, for each of our valued patrons.
Read More on
Volume 13, Issue 18, Posted 9:26 PM, 09.19.2017