Thinking Money: Financial Literacy Lessons for All Ages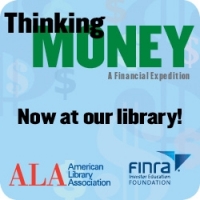 Lakewood Public Library is pleased to announce that Thinking Money, a traveling exhibition designed to teach tweens, teens and the adults in their lives about financial literacy, will be on display from September 5th to October 6th, 2017 in the Main Library 2nd Floor Gallery. Lakewood Public Library was one of only fifty libraries nationwide chosen to host the exhibit and receive programming allowance.
Thinking Money was created by the American Library Association (ALA) in partnership with the FINRA Investor Education Foundation. The exhibit explores financial literacy topics like wants vs. needs, preparing for a rainy day, avoiding financial fraud and more through an adventure-themed storyline, interactive iPad content and other fun activities.
The Library will also be holding programs on topics in financial literacy for youth, adults and families. Programming for families and adults include:
Financial Literacy Workshops for Nepali Speakers
Asian Services In Action (ASIA Inc.) will present a Financial Literacy workshop for Nepali refugee families to learn about budgeting, banking, credit and more.
Wednesday, September 13th at 7 p.m. in the Madison Branch Meeting Room
WordStage Presents: The Creature from Jekyll Island
A secret gathering at a secluded island off the coast of Georgia, held under the guise of a recreational duck hunt from November 20, 1910 – November 30, 1910, laid the foundations for the Federal Reserve System.
Sunday, September 10, 2017 at 2:00 p.m. in the Main Library Auditorium
Credit Reports & Cyber Security, presented by Cuyahoga County Department of Consumer Affairs
Danelle Musil, Consumer Affairs Specialist at the Cuyahoga County Department of Consumer Affairs will tell you everything you need to know on how to understand your credit report. This program will also include information on how to stay safe and secure online.
Tuesday, September 12th at 7:00 p.m. in the Main Library Auditorium
For a complete listing of all Thinking Money programs for families and adults, go to: http://lakewoodpubliclibrary.org/programs/more
For more details about financial literacy programs for tweens and teens, please read ??? by Eric Knapp in this issue.
As always, Lakewood Public Library programs are free and open to all.
Read More on Library
Volume 13, Issue 17, Posted 12:35 PM, 09.06.2017