Space: Above & Beyond Roleplay At The Library: 5th-8th Grade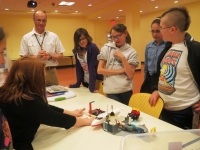 What role would you play if you were given the opportunity to be one of the first colonists on Mars? What skills would you need to survive years in space with no help from Earth? How would you design the perfect space station or colony using Lego bricks? Just how different would the world be now if the Russians had won the space race instead of the Americans? Join us and find out!
Each week, we'll explore a different space-based scenario, participate in interactive discussions, then explore the cosmos and our imagination through trivia, games, challenges, and science. On our final meeting, we'll have a costume contest, photo opportunities, games, and prizes! Space: Above & Beyond is a six-week program for students in fifth through eighth grade. Register online, stopping by Children's and Youth Services, or call (216) 226-8275 ext. 140. Wednesdays, September 20 – October 25; 7 p.m. – 8:30 p.m. in the Main Library First Floor Multipurpose Room.
Read More on Library
Volume 13, Issue 17, Posted 12:35 PM, 09.06.2017