Girls Who Code Club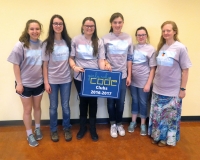 Technology is developing and expanding at a rate more rapid than at any other time in history. One might assume that the tech savvy youth who are highly immersed in a world that is practically half digital would be heavily focused on the whats, hows, and whys of that world's inner workings. To some extent many are, but there is an issue regarding technological education that has fallen through the cracks; one which a national fellowship program has chosen to make its focus. Girls Who Code is a national non-profit organization dedicated to closing the gender gap in technology. The problem is that tech jobs are among the fastest growing in the country, yet girls are being left behind. While interest in computer science ebbs over time, the biggest drop off happens between the ages of 13-17. Data shows that 66% of female students between the ages of 6-12 show interest or are enrolled in computer programming classes, but that number drops to 32% in the 13-17 age range and to an even more drastic 4% among college freshman. By 2020, there will be 1.4 million jobs available in computing related fields. US graduates are on track to fill 29% of those jobs. Women are on track to fill just 3%.
The Lakewood Public Library has taken up the banner of this mission and joined the Girls Who Code fellowship, offering coding workshops for girls in 6th through 12th grade which are facilitated by an experienced and vetted coding professional. Technologically minded teen girls in Lakewood (and beyond) are encouraged to join this free 12 week program where beginners can learn the basics of coding language and girls with more experience can take it even further by developing their own projects under the guidance of the facilitator. This coding club will be Monday nights from 6:00-8:00 p.m. and runs for 12 weeks beginning on September 11. Contact the Lakewood Public Library Children & Youth Services desk to register or for more information by calling (216) 226-8275 ext. 140
Nicka Petruccio
Nicka Petruccio is a librarian at the Lakewood Public Library in the Children & Youth Services Department.
Read More on Library
Volume 13, Issue 17, Posted 12:35 PM, 09.06.2017