Congratulations To 671 Lakewood Summer Readers! THANK YOU TO ALL OUR SUPPORTERS!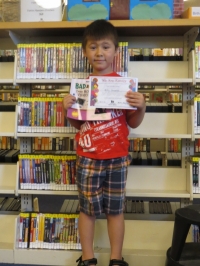 Congratulations to 671 Summer Readers from birth through twelfth grade who finished the Lakewood Public Library summer reading club by reading either 30 books, 30 chapters or 30 hours from May 15, 2017 through August 7, 2017. A total of 2,792 children and students were registered for the Summer Reading Club this summer; 21,803 books/chapters and 3,090 hours of reading were completed. WOW! Readers recorded their reading and checked in at the Main Library and/or the Madison Branch throughout the summer and received support and encouragement from library staff, parents, caregivers, and community supporters as we all joined together to prevent the "summer slide."
A culminating celebration occurred at the Madison Park Pavilion on Wednesday, August 9, 2017 with readers from birth through 5th grade and their families. We had a wonderful time with 300 party attendees, playing games and soaking library staff.
Thank you to Madison Square Lanes Bowling Alley, Menchie's Frozen Yogurt, Giant Eagle, Blackbird Baking Company, Angelo's Pizza, Lion and Blue, and Sports Clips of Rocky River for providing prizes to reward our readers! A huge thanks to the Friends of the Lakewood Public Library for providing most of the children's programs offered this summer as well as the weekly drawing of gift cards and book prizes!
Julie Strunk
I am Manager of Children's and Youth Services at the Lakewood Public Library.
Read More on Library
Volume 13, Issue 17, Posted 12:35 PM, 09.06.2017