LHS Cross Country Dominates at Oberlin Invite: Boys Take First Place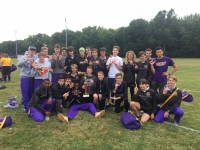 When the Lakewood Cross Country program decided to participate in the inaugural Nike Running Camps Oberlin Opener, they were told that the course at Oberlin College would be "lightning fast". The Rangers proved that correct on Saturday, as the boys won the inaugural event over a field of local schools on a perfect weather day for running. Ranger girls finished second behind only Magnificat, and the middle school teams also posted first (girls) and second (boys) place finishes. There were also numerous personal records set by members of all the Ranger teams. The boys team dedicated their victory to LHS Athletic Secretary Anne Giffels, who passed away early on Friday morning.
Ranger Joe Burtzlaff finished first among all boys in the high school competition, leading a strong Lakewood contingent. Cormac Kramer and Joey Toole finished third and fourth overall respectively, helping the Rangers post four of the top six runners. Max Budzar finished sixth, with Sean O'Donnell and Patrick McCallum running strong in tenth and eleventh place. The entire team ran very well, which impressed head coach Stephanie Toole. "We're starting to see their offseason training pay off," she said after the race. "This one's for Anne", Toole said about the win. Before the race her team came to her and asked that they dedicate the run to Mrs. Giffels.
The Ranger girls finished second in their race, led by Abby LaForm. She finished eighth overall, soon followed by Abby Sacha (11th) and Jing Feng (12th). Sofi Dunay came in 25th, and the pack of Sophie Sanders, Elizabeth Skourlis, Emma Walker, and Lucy Longhurst finished 27th through 30th, respectively.
The Lakewood Middle School teams also had a great day. The girls team finished won their race, led by a third-place overall finish by Veruca Juriles. Five Rangers finished in the top ten: Caleigh Naylon (fifth), Julia Kavc (sixth), Lindsay Gregg (seventh) and Molly Burke (ninth). The Ranger Middle School boys finished second in their race, paced by third-place finisher James Toole. Also finishing in the top ten were Luke Jablonowski (fifth) and Brayden Volcansek (ninth).
The Ranger high school boys and girls teams move on to participate in the Walsh Tomahawk Invite Saturday at Walsh Jesuit High School. The meet is scheduled to begin at 9am.
To see a full photo gallery from the Oberlin Invite, visit www.lakewoodobserver.com and click on "Photo Galleries".
Mike Deneen
Mike Deneen has extensive experience covering sports and community stories for the Lakewood Observer. Mike has been a Senior Industry Analyst for the Freedonia Group in Cleveland, Ohio, since 1998. He has appeared on CNBC's Closing Bell, NPR's MarketPlace and has been quoted multiple times in The Wall Street Journal. He has made multiple guest appearances on ESPN Cleveland radio. Mike also writes for Inside Northwestern, a website that covers Northwestern Wildcat Athletics. You can reach him on Twitter at @MikeDeneen1
Read More on Sports
Volume 13, Issue 18, Posted 9:38 AM, 09.03.2017