LHS Girls Soccer Earns Upset Win Over Olmsted Falls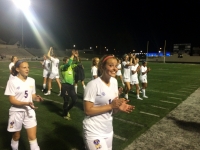 The LHS girls soccer team earned a upset win on Wednesday at First Federal Stadium, defeating Olmsted Falls 2-1. The result was a sharp turnaround from last year's game between the two teams, which the Bulldogs dominated. This was the Rangers first conference win of the year, and lifts their overall record to 2-2-1.
The game began very similarly to Monday's draw with Revere. The Bulldogs took an early lead on a 35 yard goal in the sixth minute. They held the 1-0 lead through the rest of the period, as both teams played evenly. Just like on Monday, the Rangers faced a 1-0 deficit at the half. During his halftime talk on Wednesday, head coach Roman Hubach told his players to be more aggressive. "Be hungry to score that goal" he told them.
The team followed his advice, and it paid off in the second half. Freshman Aubree Nagel scored the equalizer with 18:23 left in the game. She had a free kick on the Olmsted Falls end, and her initial shot was blocked by a line of Bulldog defenders. However, the rebound came back to her. She used her left foot to lift the ball over the line, hitting the back of the net. The crowd erupted with joy.
Lakewood had taken momentum, and had Olmsted Falls on their heels for the next few minutes. That's when junior Claire Hylton scored the go-ahead goal with 8:46 remaining in the game. The Rangers had their first lead of the last four games, and needed some strong defense to seal the win. Olmsted Falls had a few opportunities, including a corner kick in the final four minutes. Ranger Goalkeeper made her final save of the night with just under two minutes left, snuffing out a Bulldog threat and earning the win. Hubach was excited for his team after the game. "The girls are beginning to believe in themselves" he said.
The win was crucial for Rangers, who now embark on a five game road trip. It starts Saturday in Gates Mills against Gilmour Academy. They return home on September 16 to take on local nonconference rivals St. Joseph Academy. The game is scheduled for 7pm at Garfield Middle School.
Mike Deneen
Mike Deneen has extensive experience covering sports and community stories for the Lakewood Observer. Mike has been a Senior Industry Analyst for the Freedonia Group in Cleveland, Ohio, since 1998. He has appeared on CNBC's Closing Bell, NPR's MarketPlace and has been quoted multiple times in The Wall Street Journal. He has made multiple guest appearances on ESPN Cleveland radio. Mike also writes for Inside Northwestern, a website that covers Northwestern Wildcat Athletics. You can reach him on Twitter at @MikeDeneen1
Read More on
Volume 13, Issue 18, Posted 8:51 AM, 08.31.2017