Ranger Boys Top Amherst 3-0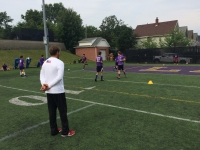 The Lakewood boys soccer team defeated Amherst 3-0 on Wednesday night at First Federal Lakewood Stadium. The win pushes their record to 2-0 on the young season, and gives them a 1-0 record in the Southwestern Conference. The performance was more workmanlike than last week's 9-1 win over Valley Forge, but just as effective.
The Rangers took control of the game early on, maintaining possession for most of the first half. Junior Malvin Gblah, who had three goals in the season opener, scored early in the fourth minute of play to give Lakewood a 1-0 lead. The Rangers continued to maintain possession throughout the rest of the first half, but were not quite able to score a second goal. They earned a few corner kicks, and had some shots that were saved by Amherst's keeper.
Lakewood continued to grind away in the second half, and slowly wore down the Comets. Lakewood's depth and quickness tired some of the Amherst players, creating oppportunities. The Rangers struck again early in the fourth minute of the second half, as senior Brennan Foran put one in the net. The 2-0 lead seemed larger for the Comets, who had problems all night with the Lakewood defense. Gblah scored a second time with just over 14 minutes left in the game, making it 3-0. Ranger keeper George Hericks kept a clean scoresheet and earned the shutout. Ranger coach Andrew Toth was able to use many reserves in the second half, building experience for those players.
The game was Amherst's season opener, they fell to 0-1. Lakewood will host another SWC game on Saturday, with Berea-Midpark coming to town. The JV games is scheduled for 5pm, varsity for 7pm at First Federal Lakewood Stadium.
Mike Deneen
Mike Deneen has extensive experience covering sports and community stories for the Lakewood Observer. Mike has been a Senior Industry Analyst for the Freedonia Group in Cleveland, Ohio, since 1998. He has appeared on CNBC's Closing Bell, NPR's MarketPlace and has been quoted multiple times in The Wall Street Journal. He has made multiple guest appearances on ESPN Cleveland radio. Mike also writes for Inside Northwestern, a website that covers Northwestern Wildcat Athletics. You can reach him on Twitter at @MikeDeneen1
Read More on Sports
Volume 13, Issue 17, Posted 1:02 PM, 08.24.2017